Chongqing Metro: diagram, photo, description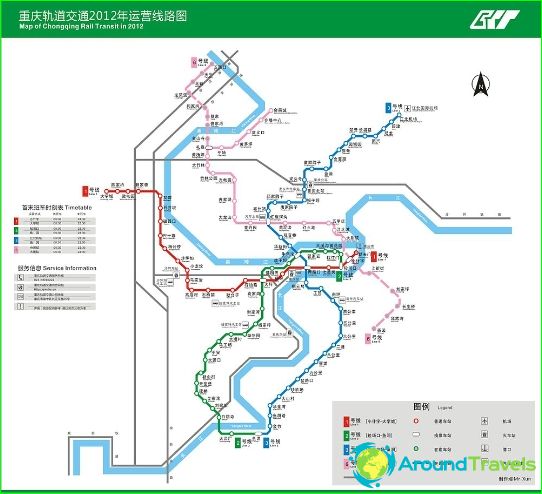 Scheme of Chongqing Metro

It met in the Chinese city of Chongqing - asystem of underground routes and combined them with the monorail line. Its construction was planned in the framework of the project on the development of the western part of the Chinese People's Republic, and the construction of tunnels began in 1999. Today, the four operating subway lines opened Chongqing hundred stations for passengers needs. Two lines are underground, and the rest - monorail. The total length of all the branches of almost 170 kilometers. The first phase of the metro Chongqing was commissioned in 2005, and the next - in the summer of 2006.
The very first subway branch Chongqing marked onSchemes red. It connects Shapingba station on the west by chaotianmen in the eastern district of Chongqing. Its length is almost 37 kilometers and passenger service 23 stations. This branch is laid underground.
Line 2 has a "green" labeling associatesTszyaochankou in the city center from the south-western area, where many industries are concentrated. Its length is 19 kilometers, and for entry and exit of passengers opened 18 stations. This branch is made on the monorail technology.
Another monorail route - "blue" branch 3. It is particularly popular with guests as it allows access to the airport and the North Station. Line 3 also connects the center of Chongqing with its southern sleeping neighborhoods. "Blue" route - one of the longest. His tracks were laid almost 56 kilometers, and 39 passenger service stations.
Among the underground branches in Chongqing Metro refersand "pink" route. It was put into operation as recently as 2012. By connecting downtown with the suburbs and Yuchzhun Nan'an, number 6 line allows their residents with no problems to get to the business districts. The development plans of the underground Chongqing branch number 4 and 5, the input of which will significantly reduce the burden on other terrestrial species of urban transport and to solve the problem of traffic jams and congestion.
All ads in Chongqing Metro performed in Chinese. Ticket vending machines are equipped with a menu in English.
Photos of Chongqing Metro
Scheme of Chongqing Metro