Nanjing Metro: circuit, photos, description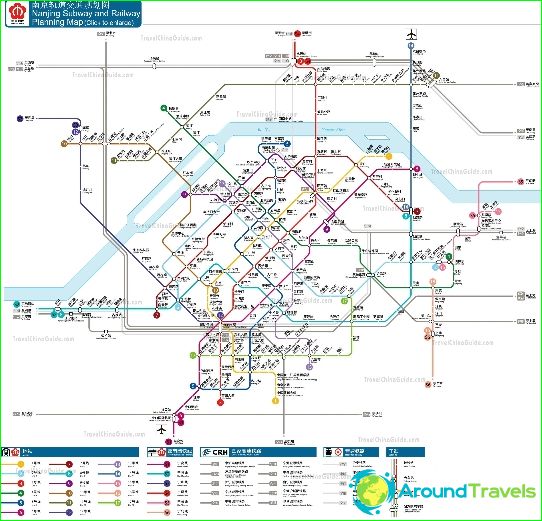 Nanjing Metro map
Nanjing Metropolitan can be attributed totraditional for many fast-growing cities with light rail. Construction of the first stations and branches began in 2000, and the first stage was put into operation in 2005. Today Nanjing subway - four fully operating lines with a total length of more than 130 kilometers. On routes to the needs of passengers it is equipped with 75 stations that daily serve more than a million people. Each year, the Nanjing subway carries not less than 450 million passengers.
Nanjing Subway is the fastestway to travel from the north to the south and west - to the east through the business center. Stops are located on the basic and important points, including in shopping centers and Zhujiang Lu Xinjiekou. At Nanjing Metro offers easy access to the train station and the Olympic complex.
Nanjing first subway line marked onSchemes bright blue. It stretches from the north to the city center, where the route deviates to the west. Its length is 46 kilometers, of which only 12 are above ground. "Blue" twig allows you to make the transition to suburban railway lines and long-distance trains on its three stations.
Branch number 2 subway in Nanjing has the Schemesgreen label and stretches across the city from east to west, and then - to the south. The length of the routes, "green" line of 40 kilometers, and they Dzhintianlu connect the north with the south Yofankao.
The six-car metro trains used Nanjingair conditioning system. All voice announcements in the cars produced in the Chinese language, but in the schemes and vending station names tickets are duplicated in English.
Hours of Nanjing Metro
Nanjing Metro operates seven days a week,It opens to the entrance of passengers at 5:30 am and ends its work in 23 hours. Intervals trains depending on the time of day may be from 2 to 10 minutes.
Nanjing Metro Photo
Nanjing Metro map