Taxis in China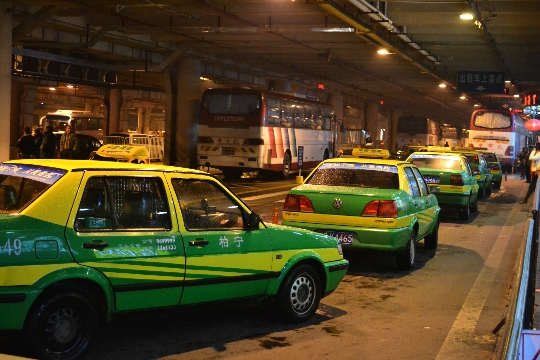 Any tourist who first came to this country,difficult to cope with their impressions of the grandeur and scale of the whole, including the areas of history, of culture, economy and transport. Taxis in China also keeps pace with the times and with the entire Chinese economy. In any region of the country to find a taxi is not a problem.
General trends of the Chinese taxi
Seasoned travelers on the basis of theirobservation and personal experience can be summarized as the work of a taxi in a particular city. Thus, the country's capital will delight guests by a large number of taxis at very reasonable prices. In Xi'an taxis, as well as the rest of the traffic is moving very slowly, no more than 40 km / h, in Kunming due to the short metro line a lot of traffic jams, so traveling by taxi can be stretched in time. Hong Kong and Shanghai as the most advanced regions, different overpriced taxi service prices.
translation Difficulty
Since not every tourist is able to masterChinese language, even at a conversational level, the complexity of communication will occur. Therefore, if necessary, the trip should insure - or have a card of the final destination, for example, hotel or shopping center, or ask the administrator of the hotel to write the address of the desired characters.
The second difficult moment usually occurs whencalculated as operating the local currency - the yuan, which is difficult to understand the beginner. Therefore, at the beginning of the path should be required to turn on the meter, if for some reason the taxi driver forgot to do it. At endpoint, guided by evidence, the driver can call the amount of 2-3 yuan more, this extra gasoline collection, sticker on the windshield prevents it.
Fare
The final price of the trip to the Chinese taxi consists of several components, including:
landing in a taxi, on average, 10 CNY (and the same payment for the first 3-5 km of the route);
payment for mileage, the minimum prices CNY 1.5, maximum - 5 CNY depending on the region of use, time, end point;
payment for easy plug (if the car is worth more than five minutes);
gasoline fee, as a rule, 2-3 CNY.
Beijing Guest can call a taxi,using a single order number (telephone 96103), other cities should learn taxi numbers at the reception of the hotel. Recently, growing in popularity gaining new electronic technology to call a taxi, for example, Ho Tso program - on a mobile phone app is downloaded, then the tourist sends a voice message (the name, the place where he was and where to get) and 2-3 minutes taxi will wait for the client at the designated location.
Photos Taxi in China