Water parks in Dalian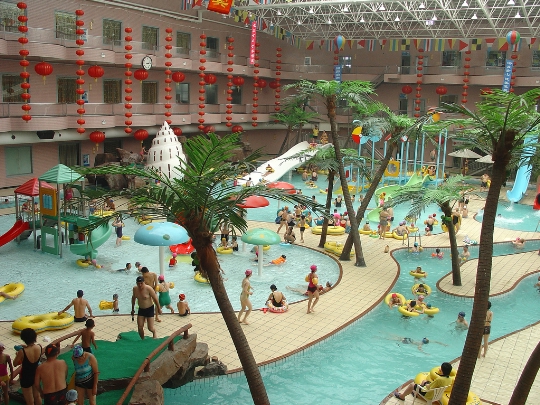 Earlier in Dalian was several water parks, but the only one that remained, continues to delight its visitors with comfortable conditions and breathtaking attractions!
Water Park in Dalian
Waterpark "Aerbin Water Park" has three sectors:
the first sector of a swimming pool for active swimming, hot mineral springs, a variety of saunas, such as hydrochloric, jade and agate;
the second sector is equipped with springs in the open air;
third sector has a complex game, 14 water slides, children's, swimming pools with sea water and simulating surf.
In addition, anyone can shoot at a shooting range, spend time on the golf course and bowling, a meal in a restaurant, in which menu you can find dishes of French, Chinese and Korean cuisines.
Adult entrance fee will be asked to pay 69-89 yuan,children growing up to 140 cm - 46-59 yuan. If you currently need to have a rubber cap; buying sweets, food, alcoholic and soft drinks, as well as the need for additional services videprokata swimming facilities and other things, their value will be credited to the number of visitors magnetic bracelets, which are issued to them at the entrance (you need to pay the bill at the exit).
Water Activities in Dalian
If you want to stay in a hotel with a swimming pool? Note the "Furama Hotel Dalian", "Shangri-La Hotel", "Kempinski Hotel Dalian" and other hotels.
Travelers should not miss itsActive attention "Discovery Kingdom" - here besides the usual, they will be able to find water attractions, such as "rafting on the plates", as well as attend the concerts and interactive shows (splash hits "Finding Nemo").
Those interested can visit the wellness center"Hot springs Jinsha" - where they will be offered to take hot baths, use facials, body and hair, to spend time in the gym and tea.
On vacation to visit Ocean Park"Laohutan Ocean Park", which serves to look at the animals in the "Polar World", to visit the exhibition of corals and marine life, to look into the exhibition hall of thoroughbred horses, ride over the sea rolled road (entrance fee - 200 yuan), and oceanarium "Shengya Ocean World" (here you can admire the turtles, big-rays, colorful tropical fish, every couple of hours to watch the feeding of sharks, visit pingvinarii, the cost of a visit: an integrated ticket - 220 yuan ticket to visit pingvinariya - 80 yuan ticket to Seen "Oceanic world" - 110 yuan).
Going to the central city beachXinghai, travelers will be able to enjoy water sports (entrance on the pebbly part - free, and for staying on the sand will have to pay 15-20 yuan); on the beach "Shell", they will be able to rent equipment for beach and water sports, as well as attend the show seals (there is a special area for the event), and at the Governmental beach they rest on the white-sandy beach and find there a golf course (entrance - 20 yuan).
Photo