Airports Crimea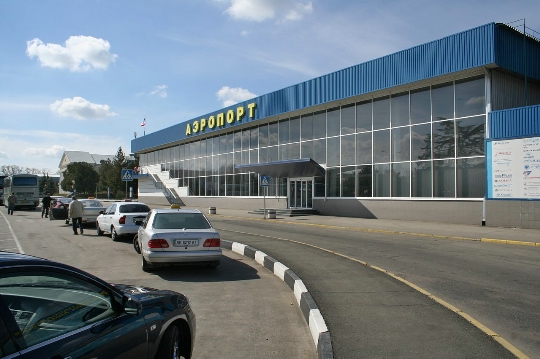 The list of airports of the Crimea including fiveair gates and aircraft - Today the fastest and most convenient way to get to the peninsula. The main airport is located in the capital of Simferopol, Crimea, and the travel time from Moscow and other Russian cities from 2.5 hours or more depending on the distance and possible transfers.
Crimea International Airport
The status of international airport on the peninsula is in Simferopol. It is located 12 km north-west of the city center and temporarily takes only flights from Russia.
The story began in 1936, the airport whena special decree of the government land was allotted for its construction. Terminal building was commissioned in 1957, and three years later was completed construction of a new concrete runway. Thanks to the development of space aviation runway length of the main airport of the Crimea was later increased to 3700 meters to air harbor able to accept space shuttles. New "Vzletka" was commissioned in 2000 and thanks to its technical characteristics can land at the airport in the overall and heavy aircraft.
Reconstruction and prospects
In the spring of 2015 at the Simferopol airport openedthe new Terminal A, Terminal B and the former has been renovated and remodeled. Today air harbor capable of receiving up to 6 million per year. Man. Airport Infrastructure offer departing passengers a comfortable stay before boarding the flight. The terminals cafés, there are waiting rooms and shops. In the arrivals area mounted six baggage belts, thus avoiding queues.
Airlines and destinations
Simferopol takes at home board different airlines:
Airline OrenAir connects Crimea with the Moscow Domodedovo airport, and in the summer its planes fly here from Vladivostok, Orenburg, Irkutsk and Krasnoyarsk.
Pegas Fly delivers the Crimea Khabarovsk, Omsk and Novosibirsk.
Red Wings Airlines caters to tourists from Barnaul, Perm, Samara, and several other cities.
S7 Airlines fly to Simferopol from Moscow and Novosibirsk
List of flights in the Crimea "Aeroflot" quite impressive - from Krasnodar to St. Petersburg and from Chelyabinsk to Rostov-on-Don.
The airline "Yamal" serves some northern airports.
Transfer to the beaches
The easiest way to get to Simferopol, andfrom there - to the Crimean resorts - is the trolley. Route N9 connects the terminal to the train and trolley NN54 and 55 travel directly delivered to Alushta and Gurzuf, Partenit and Yalta.
Before the Crimea Sevastopol airport can be reached by direct bus.
Photo