Water parks in Alushta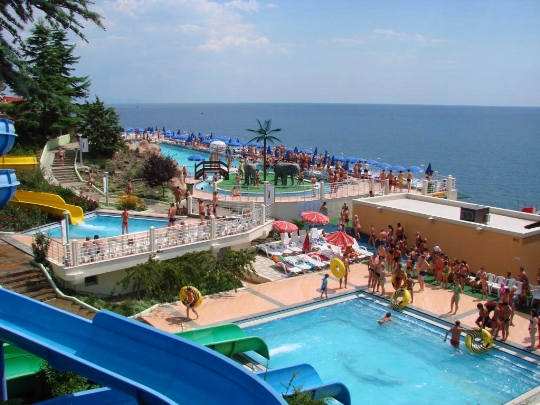 Alushta pleases its guests with the Valley of Ghosts, the best tasting rooms of wineries, waterfalls, entertainment center "Halloween", and, of course, a water park!
Waterpark in Alushta
Aquapark "Almond Grove" features:
slides "Python" (implies descent from 15 meters high in a rubber boat, length of descent - 133 m), "Gurza", 2 slides, streamers "Boa";
attraction "Anaconda" with 3-speed tunnels and slides 5;
pool complex (swimming pool with an imitation of a traveling wave);
area for the solarium with comfortable sun loungers;
children's pool with a "pirate ship", a grotto, a labyrinth, fountains, slides in the form of an elephant and an octopus;
relaxation complex (sauna, Roman bath, massage);
children's cafe "Vitamin", as well as studio-bar "Delfin" (available as snacks or a complete meal).
With ticket for adults (up from 150 cm) will take 1,200 rubles (10:00 - 17:00), 1000 RUR / 4:00; and with children (1-1.5 m height) - 1000 rubles / whole day and 800 rubles / 4 hour.
Water Activities in Alushta
The central city beach will please gueststhe ability to ride on a catamaran, banana boat, jet ski, parasailing (10-minute flight - 1300 rubles). Enjoy solitude and silence? Look to the beach, relating to the Children's Art Centre.
Do not miss your attention visitAlushta aquarium: 1 of 4 halls can "meet" with sea foxes and roosters, white sturgeon and other fish of the Black and Azov Seas, in 2 - with small Nile crocodile (they can feed) and redbanded snakehead, 3 - with piranha Black Paku , red-catfish, alligator snapping turtle, 4 - with representatives of the Red sea, Atlantic, Pacific and Indian oceans, for example, with a blue royal surgeon, as well as to visit the exhibition of unique shells and beautiful corals. For adults (from 13 years) visiting the aquarium will cost 450 rubles, and for children (3-13 years) - 350 rubles.
A visit to the dolphinarium "Watercolor" (Monday -output), you will see the show, during which the dolphins will juggle, dance, jump, draw, play basketball. But the seals will delight guests representation, which is based on tricks and games. As for the cost, per-view show guests will be asked to pay 700-800 rubles (the price depends on the number in which you sit); a 5-minute swim with a dolphin - 4000 rubles; for riding on a boat with a dolphin - 500 rubles; for photo with dolphin - 600 rubles.
If we talk about diving, the popular placesImmersion is Golubovska caves of Mount Castel (immersion depth - 6-8 meters, awaits inspection grottos and sea creatures), a place between Cape Plaka and Bird Rock (you prefer to study "dead" ships, ancient shards and other artifacts, as well as sunken 2011 boats "Komsomolets" - it is possible to get inside).
Photo