Where to go with children in Alushta?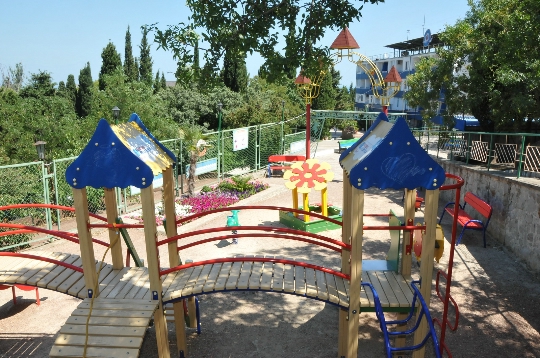 Deciding to visit with the child Alushta, you can beconfident that the rest will be wonderful. The resort is clean and safe beaches, beautiful nature and healthy air. In addition to beach activities, the city has many interesting sights that deserve attention.
The best children's entertainment at the resort
Kids and students like to visitdendrozoopark the territory of which you can see the amazing nature of the region. There you will see animals such as foxes, wild boars, squirrels, deer, rabbits and others. The zoo has a picturesque pond with beautiful swans. To get to this restaurant you can from the bus station or from the city center. it is recommended to go to the Museum of accidents on the water, located in the Big Alushta (village Malorechenskoe) With a child under the age of 10 years. You can also visit the historical museum to look at the unique archaeological finds. Many interesting objects collected in the Museum of the nature of the Crimean reserve.
Tourists have a lot of popularitysightseeing tours of Alushta on the South Coast. You can make a trip to the Swallow's Nest, Vorontsov Palace, Nikita Botanical Garden, and others. Dolphinarium "Nemo" acts in Alushta, where the spectacular views. See the sea creatures can be in the aquarium. It contains a variety of marine life. Services for a fee are allowed to feed small crocodiles. On Gorky Street multipark it is full of sculptures of fairy-tale characters and cartoon characters. There's a child can jump on the trampoline.
Educational excursions
The resort has a unique "Miniature Park", inwhich contains a copy of the Crimean buildings in a reduced form. On the waterfront of Alushta has a exhibition collection of tropical butterflies. Bright living butterflies amaze with its beauty and variety of forms.
Where to go with children in Alushta, if youinterested in the sights and architectural objects? In this case, you had better take advantage of one of the excursions, which depart from the city. The surroundings of the resort are very interesting. For example, you can go from Alushta in the village of Radiant to climb the mountain Demerdzhi. There are beautiful views of the coast. From Alushta is a bus service to the village Generals, where you can get to the waterfall Jur-Jur. The trip takes a whole day and leaves pleasant memories. The whole family is recommended to visit the famous Crimean natural monument - the Grand Canyon. It is close to the village of Falcon, in Bakhchisarai area.
Photo