Yalta Beaches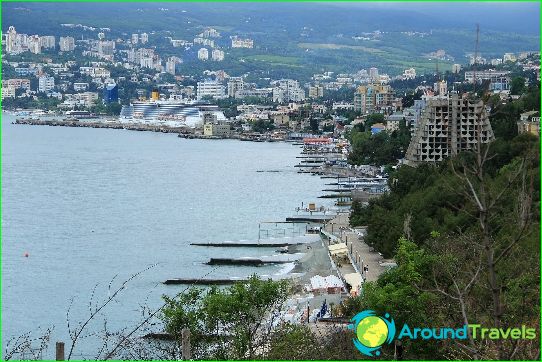 Yalta beaches are divided into municipalities (free)comfortable and private, with the entrance to which you have to pay a tidy sum. In the last beaches prefer to rest stars, the cream of society and the people who love to spend money. Among the abundance of beaches in Yalta decided to allocate three most popular: Livadia Beach, Massandra beach and the central city beach.
Massandra Beach in Yalta
Interestingly, this beach is divided into severalsectors. Entrance to each of them only paid, as the travelers on their territory is given a complete set of additional services. Entrance to the "common" beach is free. Only here guests can not only enjoy the mild Crimean sun and clean Black Sea, but also taste all the benefits of civilization.
Each of the sectors is decorated Massandra beachindividually designed, so the tourists have the opportunity to choose the one that they like best. Here you can relax in relative solitude, because most prefer to relax in the free sector, but in close companies than once again to pay an entrance fee.
There is a unique hut of reeds,which is a kind of exotic bungalows. Such bungalows are not found on the best sandy beaches of Yalta. They can relax not only the day but also at night, if you are not afraid of mosquitoes and other insects. You can easily disengage from the outside world and feel on an uninhabited island near the ocean in these bungalows. They save and from the looks of other travelers, and from excessive heat on the coast.
In front of the bungalows are located table andsunbeds, so that the rest can make a full maximum. Anyone can order breakfast, a light dinner or just a glass of juice and be confident in the fact that his desire to fulfill as soon as possible. Regarding the left do not have to worry about personal things inside: the bungalows are constantly guarded when the time is not in the hosts.
Massandra beach also offers:
unique and very fun beach radio;
Local DJ;
the ability to order your favorite song;
free locker rooms and showers;
free toilet;
long-distance payphones.
The central city beach
This beach is also considered one of the mostdemand on the territory of Yalta. It is located near the hotel "Oreanda", so the residents of the hotel often rest here. People in the Central beach a lot, but almost never bored vacationers here. There catamaran rental, jet skis and even a hang glider. Central Yalta beach is ideal for you if you just decide to tan a bit while walking on the city's waterfront.
Photos of Yalta beaches