Children's camps in Yalta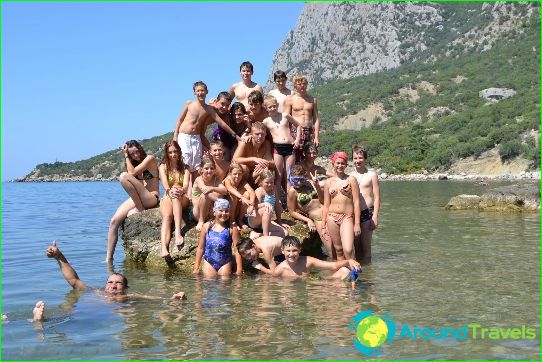 Yalta is considered one of the most popular resortson the southern coast of Crimea. The mere mention of this resort is pleasant associations: summer, warm sea, bright sun and a carefree vacation. Yalta is a kind of symbol and the uncrowned capital of Crimea. It has a Mediterranean subtropical climate and the sunny days per year is higher than in other Black Sea resorts. Yalta is protected from cold winds by Crimean mountains. The swimming season begins in May and ends in November.
What attracts rest in Yalta
Children's camps in Yalta, a great successthanks to the ideal conditions for rest and recovery. Each institution has a beach, equipped with all amenities. Children's rest is always interesting and exciting, as in Yalta, many attractions and stunning scenery. Program in summer camps include a variety of activities: excursions, entertainment, sports, sea bathing and others.
The town itself is very beautiful: old mansions interesting to look at the background of a mountain landscape. At the beginning of the 20th century, many aristocrats were in these places testify. On vacation in Yalta traveled the royal family. The main attractions of the city, which means it is necessary to see: the temple of St. John Chrysostom, Roffe baths, cable car, a house with caryatids, etc. The children visit the aquarium, the zoo, the theater of marine animals, butterflies, a museum, a park, "Glade of fairy tales"... Children's camps in Yalta - a great version of the summer holidays. Healing mild climate, beautiful scenery, unique architecture - all these factors make the school holidays unforgettable. Children visit the most interesting places of the resort. many attractions located in the surrounding area. For example, the castle "Swallow's Nest", the remote from Yalta for several kilometers. He takes the ledge of Cape Ai-Todor, towering above the sea at 40 meters. Stormy delight for children is the water park "Blue Bay" in Simeiz, near Yalta. Its swimming pool is sea water.
Which camp in Yalta choose
Yalta coast holds many sanatoriums,vacation homes, recreational camps for children and pensions. Yalta is the center of family and children's activities in Crimea. Besides the resort in Yalta Big Yalta includes Foros, Alupka, Simeiz, Miskhor, Katsiveli, Livadia and Gurzuf. The resort area stretches along the sea, occupying 70 km. Some camps offer in Yalta profile change, others have focused on the rehabilitation and sport. At this resort you can find a linguistic, environmental and adventure camps.
Photos of children's camps in Yalta