Viewpoints Yalta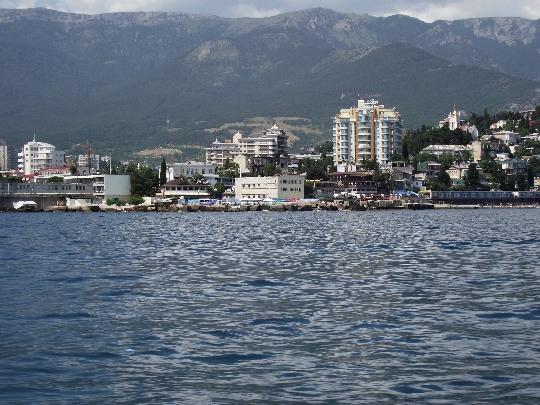 You are interested in viewing platforms Yalta? After rising to the platform in front of you will appear in a different perspective, "Glade of fairy tales", Alexander Nevsky Cathedral, Roffe Bath, Massandra Palace, a waterfall Wuchang-Su, the palace of the Emir of Bukhara and other objects.
Villa "Bagration"
Staying here, guests willopportunity to spend time on the observation deck, located at the top of the villa - hence the views of the azure sea and luxury Crimean nature, and even if you want here you can sunbathe.
Address: Communards Street, 4.
Seaside park
He will appreciate the presence of its visitorsvarious interesting objects. At the entrance to the park from the Sevastopol highway (only 3 main entrances) will welcome guests pyatiarochnaya colonnade with ladder and observation decks. In the middle of the park, in its very highest point, you can stand on a specific site, admiring Yalta beauties - its decoration is a decorative pool (on both sides mounted semicircular rotunda, one of them facing the mountains, and the other - to the sea) and flowering around Yalta roses . And the park has alley and tsvetomuzykalny fountain.
How to get there? It offers - public transport plying to stop "Yalta Seaside Park" (located at the intersection of Communards and Sechenov).
Panoramic restaurant "Chaika"
Restaurant, which specializes in Pan-Asian, European and Mediterranean cuisine, has panoramic windows and a summer terrace, allowing guests to admire the port, the sea and the promenade.
Address: Embankment of Lenin, 15.
swallow's Nest
This castle (Gothic style; its height - 12 m)located on a steep 40-meter cliff, and has one of the best lookouts - hence be able to admire from the height of sea surface and unique landscapes, and make unique photo of the castle.
How to get there? It can be reached by shuttle boat from the port of Yalta or Yalta bus station to the stop "Sanatorium" Parus "on the shuttle bus number 102 or 32.
Cable car "Miskhor - Ai-Petri"
Guests of Yalta is "experience" this ropeway(Height of the top stations - more than 1100 m above sea level, and the average - more than 390 m) - during the 15-minute "trip," they will be able to enjoy the beautiful views, and from the observation platform, located on a mountain plateau, admire the boundless sea.
Ticket prices (up and down): 500 rubles (6-12 year-olds - 200 rubles). Ticket prices (1-way path): 250 rubles (children - 100 rubles).
How to get there? From Yalta bus station will be able to take the bus number 27, and from the clothing market - by bus number 32.
Other features
Inspect the panorama of Yalta and the surrounding area can be and observation platform Darsan hill (height - 130 meters).
It is worth noting that in the near future plan to arrange a viewing platform on the Polikurovsky hill - hence the beautiful views of the city center and the waters of Yalta.
Photo