Yalta Streets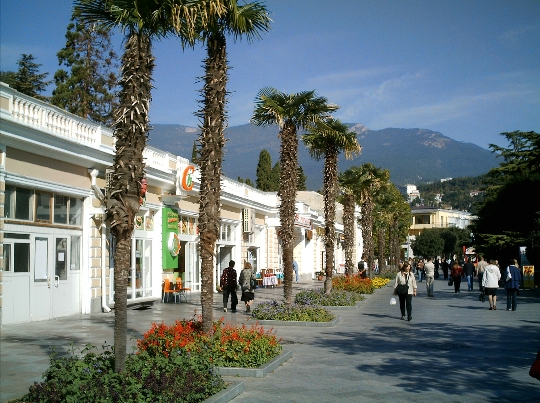 The small town of Yalta is world famous. It is located near the sea and surrounded by mountains. The favorable climate has led to the popularity of the resort. Yalta streets have a special atmosphere and bear the imprint of years of history. The guides in the resort area includes not only the Yalta itself, but also the settlements, which are located next to it: Massandra, Gurzuf and others.
Pushkinskaya Embankment and - this is the most attractive and popular resort artery. They are located in the center of Yalta.
Pushkinskaya street
Pushkin begins near the cinema "Spartacus"and extends to the waterfront. It is famous for its many outlets offering a variety of products ranging from souvenirs and ending with sweets. Wuchang-Su River flows next to the street and go into the mountains. The decoration line is a monument to the Russian poet Pushkin. The area is of historical and literary museum of Yalta, which is unique exhibits relating to the history of the city. Pushkinskaya street leading to the embankment of Lenin - the most interesting streets of the resort.
embankment
At this point, going wandering musicians andartists. Quay is the oldest section of the city. She is buried in the palms and surrounded by bars, restaurants and attractions. Street differs unusual architecture, made in different styles. The cladding of buildings used red granite. This is a favorite part of Yalta, where crowds of tourists flock. On the promenade are the main attractions, popular shops, the best hotels and concert halls. Folk festivals, festivals and performances are held at this wonderful street. During the holiday season in Yalta quay has a special festive atmosphere.
The main attractions of the promenade:
Lenin monument,
Theater named after Chekhov,
International Marine Club,
sycamore Isadora Duncan,
Cafe "Golden Fleece" with interesting architecture.
The main street of Yalta can be compared with embankmentsNice, Cannes and other well-known cities in the world. In its center is located on the Darsan road leading to the scenic lookout platform. The culmination of the street is the hotel "Oreanda", a building which is a cinema. Nearby you can see the exhibition hall, where exhibitions of young artists.
Throughout the Lenin Embankmentfunctioning café with a summer terrace. Prices are moderate and varied menu. On the left side of the main street is the theater Chekhov. Next comes Chekhov Street, where you can see the mineral source "pump room". In the center of the city is Lenin square, which is full of shops and boutiques. Alexander Nevsky Cathedral - Central Yalta Orthodox church is also located in this area of ​​the city.
Photos of Yalta streets