Water parks in Yalta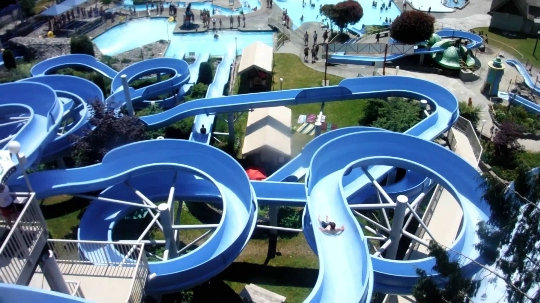 Want to give a holiday for themselves and their children? Visit the Yalta water parks, which are considered the best place for an active summer holiday.
Water parks in Yalta
Water park "Atlantis" offers:
water attractions "Boomerang", "Fast and the Furious," "Waterfall", "Centrifuge", "Extreme", "Bend";
wave pool "Atlantic" (its area - 2,000 m2), swimming pool for kids "Laguna" with slides and water cannons;
shops, luggage storage (for rent - $ 100), a café, a cocktail bar.
It should be noted that a water park entertained animation programs and contests with various prizes.
Entrance fee: a day in the water park adult guests will cost 1500 rubles, from 15:30 to 21:00 - in 1300 rubles, from 18:00 to 21:00 -to 900 rubles, and the children (height 100-130 cm) - 600 , 700 and 800 rubles respectively. With regard to children, whose growth has not reached 100 cm, they can stay in the water park without purchasing the entrance ticket. Free, you can have fun in the water park and on the day of birth (you must provide a document).
Waterpark "Blue Bay" is equipped with:
children's swimming pool complex with "eight" and 4 rides;
saltwater pools and water attractions "Anaconda", "Kamikaze," "Topogan", "Bend";
pool bar, a pizzeria and a shopping arcade.
The cost of 9-hour stay - 1400 rubles / adult and 600 rubles / child (height 90-150 cm) and 5-hour stay (in the second half of the day) - 1200 rubles / adult and 500 rubles / child.
Water Activities in Yalta
For a beach holiday travelers isgo to Llandudno Beach (from entertainment available: jumping on the trampoline, banana boating, parasailing over the sea) or Massandra beach (a paid and free sites; beach strip is equipped with breakwaters, massage services, water sports are available).
For those interested in diving, it is recommendeduse the services of dive centers "Aquasport", "Oreanda" or "Fregat-Crimea": there they will be offered to explore the wreck of the war ship (depth - 15 m), or rather what was left of it in the form of individual parts of the deck, metal structures and sides; barge (which sank in 1972) at 10-12 meters depth in the area of ​​the Yalta pier, as well as the caves near the Swallow's Nest.
Are you interested in boat trip? In summer you will be offered to go to the mini-tour for 4-deck catamaran "Globe" (it is equipped with a restaurant, bar and dance floor). It is worth noting that the most popular evening boat trips - in addition to the night swimming in the open sea, guests are invited to have fun at night disco, arranged on the upper open deck.
Photo