Beaches of Koktebel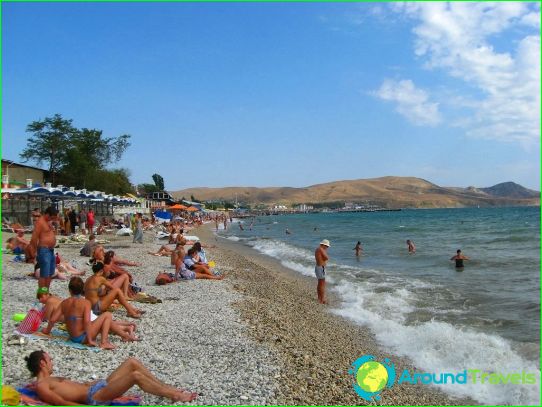 In Koktebel anyone can not only as arelax, soaking up the sun or slicing warm waves, and water sports, or even to try himself in something extreme. Here is an opportunity to try their luck at windsurfing, water skiing or master the bike, relax on a water bike or povizzhat a ride on an inflatable banana.
Also, those vacationers who do not have enough adrenaline,can try a ride on a seaplane or go scuba diving and explore the local seabed. For lovers of passive, but no less vivid impressions beaches of Koktebel organize boat trips with the possibility to explore the area and substitute person pleasant breeze. Children with joy ride on the local water attractions, so parents do not have to try to come up with for their entertainment.
The central beach of Koktebel
Of course, such a large range of services and opportunitiesKoktebel attract large number of tourists every year, so there is a full house here every season. In order to take a good place on the beach, we have to come at about 8 am. Even at 9 o'clock in the morning the beach is already full, and fans to sleep late at night may be left with nothing, or be content with what was left.
The central beach of Koktebel has several features, which need to know everyone here to relax:
The beach area covered with a sand and pebbles, so those who are looking for the best sandy beaches of Koktebel, may be a little disappointed.
According to freely roam the beach hermit crabs that can frighten children.
Thrill seekers can jump into the water from the pier, jetty.
Stones on the sea floor is not, so you can go into the water without shoes.
Unfortunately, throughout the territory to find any shelter or wood, so knowledgeable campers bring their own umbrellas.
The seabed is constantly cleaned.
Free locker available every vacationer.
Koktebel Beaches for fans of quiet rest
If you dream of a quiet, holiday otshelnichemon the beach, then you should pay attention to the quiet bay. The beach here is sandy, and the people are much less than on the central beach. It is very common to find campgrounds and tourists who travel on their own, or hitch-hiking.
It is also very picturesque reserve Karadag wherevacationers can count on one hand. These beaches are considered to be wild, but the water here is very clean and the atmosphere is just one that helps create the ideal conditions for a good rest from civilization and bustle of the city. Where you can swim with a mask, enjoy the views of houses marine life and beautiful deposits of shells and stones.
Photos Koktebel beaches