Water parks in Koktebel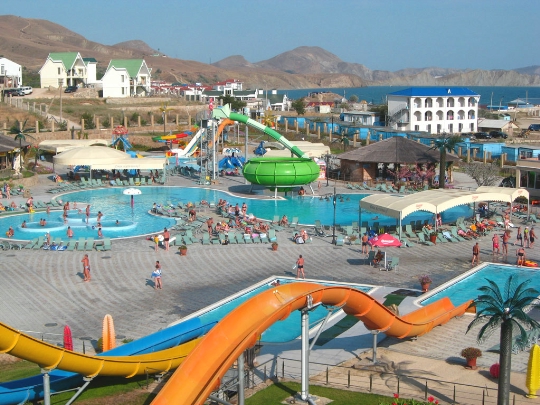 You are going to go to vacation in Koktebel? This holiday village will delight you with its water attractions complex - you probably will stay in a good mood, having plunged into its fun atmosphere!
Water parks in Koktebel
Koktebel Aqua Park makes available to its visitors:
24 water slides, 2 of them - the extreme, and 12 -children (slides for kids stylized heroes of fairy tales) - 3 twisted closed pipe "Coastal Brotherhood", "space tube" (height - 8 m), "Flying up the boat", "Family on the raft," "Black Hole" (height - 12 m), "multi-slide", "Multi-surfing";
swimming pools (7) Jacuzzi (3);
cafe (5) and a restaurant;
showers, medical center, parking, toilet, storage.
For the entire day in the "Koktebel" adultpay 1,200 rubles, and the children (height - 100-130 cm) - 800 rubles; 4 hours of fun in the water park from 14:00 to adults are charged 1,000 rubles, and with children - 600 rubles; storage rental - 200 rubles (price includes deposit - $ 100).
Water Activities in Koktebel
Interested in a hotel with a swimming pool? Please note the hotel "Narliev", "Villa Classic Hotel", guest house "Creative wave" and others.
Attention travelers deserve KoktebelDolphinarium - adults will be able to see the dolphin show (dolphins demonstrate their creative and acrobatic abilities), paying for a ticket of 700 rubles. For children (3-12 years), they ticket will cost 300 rubles. If desired, you can swim with dolphins, or white whale (3,500 rubles), photographed with a dolphin (700 rubles), or fur seals (300 rubles).
If we talk about a beach vacation, thetravelers can opt for the Beach "Surf" (despite the fact that the infrastructure is almost not developed, at this beach you can swim in the clear sea and to find jasper, carnelian, rock crystal, onyx and other gemstones and semi-precious stones, and even from here you can go on a boat trip along the Karadag on the tour little ship), the beach in front of Voloshin museum (to the guests - water attractions) or beach hotel "Primorye" (entrance fee will have to pay, but here you will find a kiosk with drinks, cafe, kebab, the dressing room, sunbeds and canopies, the point where they sell souvenir and beach paraphernalia).
Do you want to go windsurfing or kite? Resort to the services of the rolling station "Uncle Kava" - here you will be offered to rent of sails, boards, jackets, suits and other necessary equipment and ammunition.
For those interested in diving will be useful to know thatKoktebel dive in a quiet bay at the Crab-stone - here you can see the caves, the Black Sea flora and fauna. Recently, at a depth of 9 meters in Koktebel Bay appeared artificial reef, and to see it, you need to dive under the water.
Photo