Entertainment in Feodosia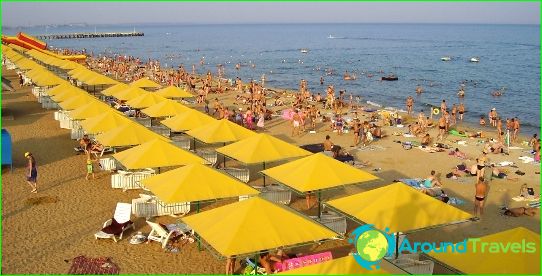 Entertainment in Feodosia - it's diving, fishing from a boat in the middle of Feodosiya Bay, surfing, jeeping, hang-gliding, flying over the sea with a parachute.
Amusement parks in Feodosia
"Luna Park": all the attractions of this park are divided into categories and ages. For the youngest guests will be able to jump on the trampoline and ride on the train and other children's carousel, children from 6 years - to ride on machines, multi-level hills to climb on, visit the room of fear, and adults - to take a ride on the Ferris wheel and other rides.
Komsomol Park: No matter what goals you pursue on vacation in Theodosia, take a look at this park - here you can not just sit on the benches in the shade of trees or a walk through the alleys, but also actively spend time in a ropes course. There are several tracks - "Baby" (for younger visitors), "Extreme" (for trained people) and "Uragan" (for adolescents and adults).
What kind of entertainment in Feodosia?
If you're used to spend time in nightclubs,be sure to visit the "Beach Club-117": here you will have to wait for summer bar "Caribbean", "Sunrise", DJ Bar "Girlis". Local animators will draw you to the morning aqua aerobics, various competitions (particular attention should contest "wet T-shirts") championships in beach volleyball.
If you prefer an active pastime, visit Sportbaza "Dynamo": Here you can play tennis or ping pong, rent the necessary equipment.
Prefer water sports? At the local beaches you can ride on yachts or boats, catamaran or water ski, dive into local waters under the supervision of an experienced instructor.
Entertainment for children in Feodosia
Alexander Green Museum: certainly, the boys and girls want to go to the house-museum, which resembles a ship (the room in the form of cabins) - then hold them for an interesting tour and show the ship's bell, a ship with scarlet sails, steering wheel made of wood.
"Bombay" Mini-club: in this club, created for small fidgets, your child can frolic on the playground, trampolines, houses, tunnels, mazes, slides, swings, posobirat designers to play with children or railroad cars on the radio, as well as a games console. It is worth noting that in the children's activities in this club meet animators who will not get bored any child.
Dolphinarium "Nemo": Dolphins here show little guests their dance, acrobatics (they make a stunning somersault in the air) and creative (children see the dolphins draw) capacity.
On vacation in Feodosia sure to admire the ancient buildings, visit the horse walk in the surroundings of the resort and a cruise along the coast aboard a small ship.
Photo