Rest in Feodosia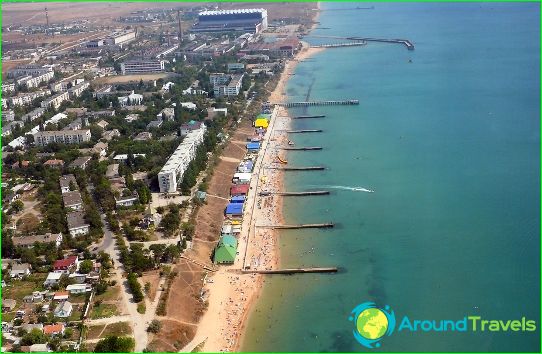 Rest in Feodosia - it's not just the warm sea and excellent beaches, but also excellent conditions for exploring the cultural heritage of the Crimean peninsula, in particular with the work of Green and Aivazovsky.
The main types of recreation in Feodosia
Sightseeing: The program includes inspection of the Church of All Saints, the Genoese fortress, the church of St. John the Baptist, a visit to the museum of Alexander Green, and National Gallery of Aivazovsky's name. In addition, you can arrange for a trip to Karadag reserve and Ilyinsky lighthouse.
Beach: despite the fact that all beaches are mostly sandy, Feodosiya found rocky coasts, pebble beaches and areas laid with concrete slabs. A broad band of Theodosia beaches stretches from the central part of the city port to the suburban villages Seaside, Riverside and neighborhood Sandy Beam. Note to the beach Disco-117: it is equipped with a cafe, water rides, a disco bar, facilities for billiards, ping pong, volleyball. And at night you can come here to have fun at the open-air disco. If desired, you can go to the central city beach "Stones" - there is a rental, where you can rent a beach chair and everything you need for water activities, as well as shops, which sell sweets, fruits and Crimean wines.
Active: tourists can go for walks, go hang gliding, scuba diving, fly on a parachute behind a boat, go fishing in the sea, get on a horse ride.
Treatment: as curative factors in the sanatorium establishments using climate, marine and mineral water, curative mud Adzhigol lake.
Event: conjunction with a trip to the holding of festive events, you can visit the Festival of Balloons "Air Brotherhood" (May) Wine festival "WineFeoFest" (September), the opening of the season Handicraft "City of Masters" (July-September).
prices
on Tours price level in Feodosia envy of the season. Tourist Season: mid-May - mid-October, but it is best to rest in Feodosia in June - early September. At this time, tickets are getting more expensive, the price reaching its peak in July and August. Who can save to come here in early autumn (savings of up to 35%) or in the off-season, which lasts from November to May, when you can buy the cheapest tickets (this time is perfect to go on a wellness tour).
On a note!
In addition to hotels of different price categories, in Feodosia you can rent a room in a private house (locals enthusiastically offer their services to visitors).
Despite the fact that Theodosius (it has a compact size), many moving on foot, to any object of interest can be reached by bus or taxi.
Leaving Theodosius, a souvenir you can buy products from Juniper and herbs (kitchen coasters, herbal pillows), pictures with sea views.
Photos recreation in Feodosia