The streets of Feodosia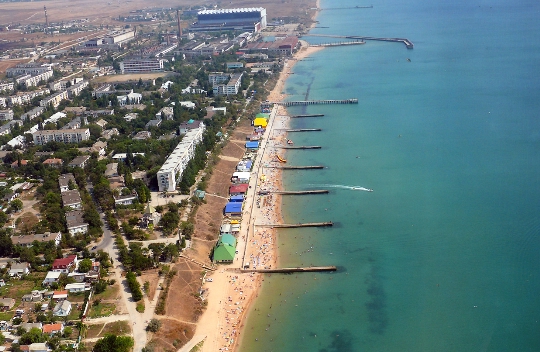 One of the most beautiful and interesting places in theCrimean peninsula is the city of Feodosia. "God-given" - so called in the 6th century this city the Greeks. Kef - it was called during the Ottoman Empire. The ancient streets of Feodosia still preserve their historical heritage. Settlement with a long history and is considered one of the oldest on earth combines the wonderfully cultural and religious heritage of the East and West, Christianity and Islam.
What is interesting Theodosius
Currently, interestextant defensive fortifications pre-Christian period of the 13th century and the 14th century church. Right on the bank of the Feodosiya Bay is the Genoese fortress. The area of ​​this building is a cultural and historical reserve. St. Constantine Tower two-meter limestone walls has seen a lot in his lifetime and is now a symbol of the city - it is decorated with the coat of arms of Feodosia.
In the city there were Pushkin, Chekhov, Griboyedov,Bitter, Mandelstam. The famous marine painter Aivazovsky and writer Alexander Grin lived in Feodosia ground, creating their own immortal works. Great damage to the historical heritage of the city had suffered during the Great Patriotic War.
Main streets
Theodosia Street in Soviet times was called inhonor of prominent political figures of the time, and heroes of the Civil and the Great Patriotic War. In the late '90s and early 2000s, several streets of the city the old pre-Soviet names were returned (Zemsky, Admiral Boulevard - the former Karl Liebknecht and Rosa Luxemburg). The streets of the old part of the city, located on the slopes of Tepe-Oba, still retain their former historic appearance.
Theodosia Center was rebuilt after the war and hasrectangular shape with straight lines, streets, other than the winding, winding, steep descents-ups of the old city streets. By the streets of the oldest streets of Feodosia are three times to change the name for a century:
Grammatikova - Voykova - Ukrainian;
Fortress - Rosa Luxemburg - Admiral Boulevard;
Meschanskaya - Red - Mokrousov;
Turkish - Zhelyabova.
Zhelyabova Street - one of the oldest in Feodosia. It was formed during the period of Ottoman rule, it was the center of medieval Kef. The youngest streets are streets Garnaeva Feodosia, Crimea, Factory (Baranova), Sumy (Panova). In total, in the city currently has 433 streets and alleys.
The main street of the city is the street Galereynaya,with only pedestrian traffic to Lazarev square. In the gallery are gallery Aivazovsky, Green Museum. The central part of the city form the street Nakhimov, Gorky, Soviet, Ukrainian and Kuibyshev. All traffic flows converge in the area of ​​the White acacia connecting the central and northern areas of the city.
Photos streets of Feodosia