Water parks in Feodosia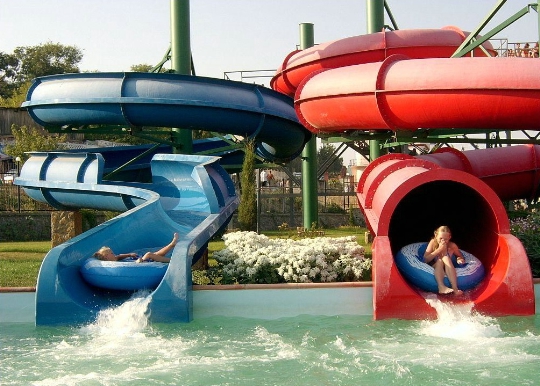 In addition to the stunning scenery and unique wellness climate, Theodosius pleases travelers a variety of entertainment.
Waterpark in Feodosia
The local water park located close to Theodosia in Koktebel offers:
attractions for children, stylized fairy-tale characters;
adult slides, including a slide-tunnel: so, highlight the "Flying up the boat" (riding on an inflatable raft, you double to change the angle of incidence), "space hole" (speed skating accompanied by special effects, such as audio-visual), "Coastal Brotherhood" (attraction in the form of 3 pipes - they intertwined), "Free fall" (the rate of descent - 12 m / s), "Multi-surfing" and "Multi-hill" (riding on the last 2 slides is carried out by sliding on arranged parallel to the open road, which allows to arrange family events );
swimming pools, hot tubs, sun loungers, set both in the open sun, and under the tents;
attraction "Family Rafting" (slide, suggesting slipping on an inflatable swimming facility - raft, designed for several people);
first-aid post, showers, toilets, storage room, guarded parking lot.
At dusk the water park is illuminated, enjoy evening show program with participation of the leading and DJs.
The cost of your stay: adult ticket costs 1200 rubles / full day (4 hours - 1000 rubles), and a children's ticket (children growth of 100-130 cm) - 800 and 600 rubles, respectively. With regard to children, whose height is less than 100 cm, they are free to stay in the water park.
Children under 14 years old can attend a waterparkonly accompanied by an adult; if you lose the bracelet will have to pay a fine of 1000 rubles; The use of luggage storage you will be asked to pay $ 100, leaving to pledge the same amount (if you lose the key, the deposit will not be returned).
Water Activities in Feodosia
Attention travelers deserve Dolphinarium"Nemo": they are pleased with enchanting program (animals draw, do a somersault in the air, as well as arrange a romantic night show), and offer to take part in sessions of dolphin therapy, including with elements of psychotherapy and psychological correction (this is true for children facing certain health problems).
From the beaches should look to the Golden, pearly beaches, the beach "Stones" - all available for rent boats, jet skis, sailboats.
Those interested in diving can offergo on diving excursions, including to do research in the Gulf of Feodosia sunken ship in 1942. "Jean Jaurès" and stepped on a mine in 1916, the steamer "Tsarevich Alexei Nikolaevich." Interesting dive sites: Cape Chauda and Megan, Karadag Nature Reserve. If we talk about the prices, the standard 30-50 minute dive costs 2500 rubles (for photo and video you need to pay 300 rubles).
Photo