Sevastopol Beaches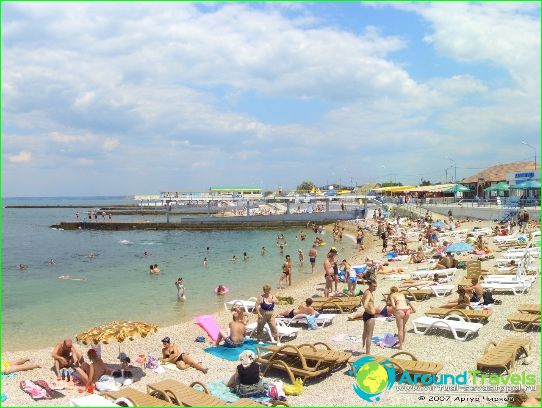 Hero-City Sevastopol attracts tourists inlargely due to historical events that took place on its territory. In the city a lot of exhibitions, museums, military equipment and other reminders of troubled times and unforgettable pages of history. However, people come here not only to enrich the cultural and historical baggage of knowledge, but also simply relax. Sevastopol beaches invite to themselves all those who want to combine business with pleasure: to sunbathe, admire the dolphins and see the military history of the Crimea.
In the vicinity of Sevastopol and in the citya huge number of beaches - many as fifty sites for recreation. Fully equipped with comfortable beaches much less, but not every vacationer should be given all kinds of beach equipment, some content, and wild beaches. It is noteworthy that the entrance to all the beaches of Sevastopol is completely free.
The beaches of the north side of Sevastopol
The best sandy beaches of Sevastopol is settled in this part. For example, the beach "Uchkuevka" will delight holidaymakers a whole set of nice details:
clean, fine sand;
a large strip of the coast;
a decent amount of cafes and restaurants for every taste and budget;
pine forest park nearby.
Those who came to rest on its owncar can visit the beaches in the other towns, such as Orlovka, Ljubimovke or Kutch. A nice addition to good service there will also sell fruit at affordable prices, as well as the opportunity to stay in the ward town. Children will find rides and water slides, while adults can relax. Sometimes on the local beaches, festivals, where you can dance all night long and enjoy refreshments. All these beaches are very spacious, so plenty of space.
The beaches of the south side of Sevastopol
The largest beach is considered the "Omega"situated in a sandy bay round. The beach is ideal for relaxing with the children and adults will find entertainment to their liking. Rental boats and catamarans, many bars and cafes, as well as free discos will not get bored. Located near the local yacht club, so Horizon is very often littered with small sailboats.
In the city center located beach"Crystal" on the shore of the bay of the same name. Entrance to the beach is done through small ladders. The water depth is very tangible - 2 meters from the entrance to the water, so a vacation with children is not recommended here. Beach equipment and a chance to visit the locker room or shower room is available only tourists staying at a local hotel.
Photos of Sevastopol beaches