Sevastopol Viewpoints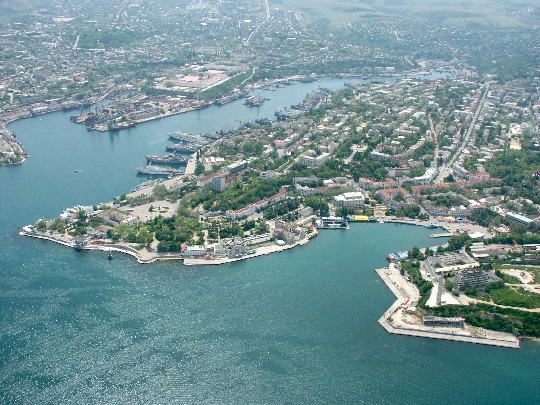 Viewpoints Sevastopol invite travelers to enjoy the height of the Count's Quay, Admiralty St. Vladimir's Cathedral, forts, ruins of the ancient city of Hersonissos.
The observation deck of the Primorsky Boulevard
The place is suitable for photo shoots and romanticwalks in the evening the boulevard. In addition, there will be able to enjoy great views, overlooking the sea, as well as attend the infrequent holiday concerts.
How to get there? Sitting on a trolley bus number 10, 13, 7, 1, 5, 3.9, or bus number 12, 29, 77, 5, 16, 6, 71, 110, 117, 94, you need to get to the stop "Nakhimov Square", after then walk.
The observation deck on the street Admiral Makarov
This ground for review (one of the best) offers a truly fascinating and breathtaking views to visitors.
How to get there? Do you fit the following routes: trolleybus number 1; 4. Exit the bus number you need to stop "street Admiral Makarov".
Grass Cafe
Cafe has windows with panoramic display,that allows you to admire the ships and the South Bay, and enjoy the taste of seafood, European cuisine and vegetarian dishes. Address: Historical Boulevard, 3.
Ferris wheel
Take a ride on this ride, ticket to thewhich will cost no more than $ 100, with a bird's-eye will be able to admire the panorama of Sevastopol, Historical Boulevard, South Bay (sitting in a booth, and considering the area, it is possible to decide on the further route of walking around the city). Address: Historical Boulevard.
Malakoff
Visiting Malakhov Kurgan (height - 90 meters abovesea ​​level), campers will be able to see the memorial cast iron plate, a defensive tower (construction, referring to the mid-19th century), the gun, the monument Kornilov, but with viewing platforms - great views of the sea. Address: Street Istomin.
Sapun Mountain
From this mountain range, altitude 240 m, openstunning views, but it is - not the only reason for the trip here: this place offers to see the obelisk of Fame, examples of Soviet military equipment and ammunition, visit the museum-diorama "Storming the Sapun Mountain".
How to get there? Before Sapun Mountain Sevastopol can be reached from the center by taxi number 107 or 22.
Lookout Pass Laspinsky
This place is an increased interest from touristsand Sevastopol: here they will be able to admire the Bay of Balaclava, the expanse of the Black Sea, the natural boundary Batiliman. Immediately, on the observation platform (road Sevastopol-Yalta), will be able to see the plaque and bas-relief depicting a road designer Garin-Mikhailovsky. In addition, vacationers will find nearby restaurants, shops with souvenirs and a small temple-chapel.
Photo