Sevastopol Street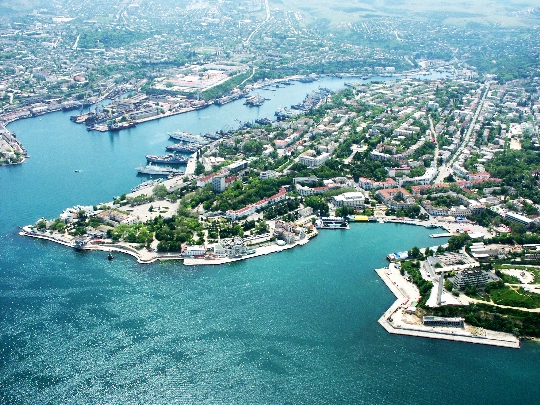 Almost all the streets are named Sevastopolfamous people. The city has an avenue General Ostryakova street Yumashev, Kohli Pishchenko, Bogdan Khmelnitsky, and others. Each street has its own interesting history. Total in Sevastopol is located more than 500 streets, two quays, seven avenues, seven areas and the same number of lanes.
Main streets
The central streets form a ring aroundCity scenic hill. This area is famous for its architectural landmarks. Central City or the hill has a few quiet streets covered with greenery. In this area transport almost does not move. From the hill on all sides down the stairs of various sizes (narrow, majestic, large, etc.). The central hill - a place that is perfect for relaxation and privacy.
The most beautiful and well-known area of ​​the city -Admiral Nakhimov Square, located next to the Lenin Street, Palatine dock and Primorsky Boulevard. At this point, the city held celebrations and holidays. Nakhimov Square becomes a small Lazarev area, built-up houses on the perimeter. All the buildings here are single architectural composition. Facades of almost all the houses were made of Inkerman stone. From this picturesque square start street Mayakovsky, Aivazovsky, Nakhimov Avenue, the street Gen. Petrova, Voronin, Bolshaya Morskaya and Shestakova descent.
Old streets
The central part of the city is decorated areaSuvorov, formed in 1983 to redesign it called Pushkin Square. The oldest street is a street of Sevastopol. Previously, it was called Balaklava road, Admiralty, St. Catherine and Trotsky. Lenin Street stretches for 1.2 km. It has an open access to the sea.
In the central part of the city ring LargeMarine Street. It was the first restored after the war. The buildings here are made in the same style, but every building is considered to be unique. Houses erected on the original project, as a whole, they form a beautiful architectural object. On the lower floors of buildings are boutiques, cafés, bars, travel agencies and restaurants.
The main tourist attraction and historical monument of Sevastopol - Palatine dock. From this location you can see the Big Sevastopol bay.
The famous city object - Nakhimov Avenue,whose length is approximately 900 m. Previously, he was considered a portion of the Bolshaya Morskaya Street. Prospect Nakhimov - this is one of the main streets of the city, built the most beautiful buildings. Its architecture has changed several times due to destruction during the war, some houses on the avenue safely transferred events of the Great Patriotic War.
Photos streets of Sevastopol