The streets of Simferopol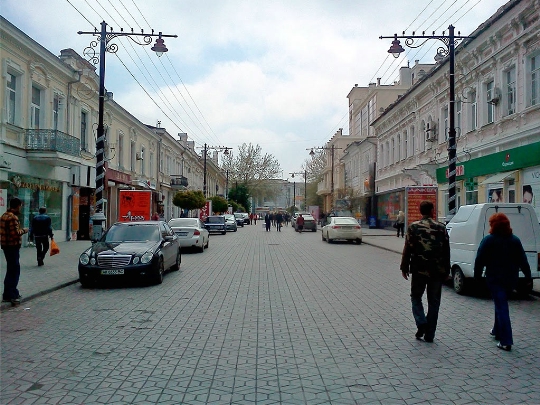 Simferopol is the main transportCrimea isolation. Therefore, he is considered the gateway to the peninsula. Here come the buses, trains and planes. The streets are full of interesting places Simferopol. Many people perceive the city as one big station, since they do not have time to appreciate its attractions.
Attractive facilities Simferopol
The town was founded relatively recently. He was a little more than 200 years. But on the streets a lot of objects, which are associated with the events of history and culture. The capital of Crimea is small in size. From the train station departs Boulevard Lenin, in need of renovation. Square divides it into two parts. Attractions park - a monument to Lenin and wooden sculptures by local craftsmen Dzheknavarovym.
The continuation of the boulevard are the three main streets,running parallel to each other: Alexander Nevsky; Catherine; Dolgorukovskaya. They recently acquired its historical name. Previously, it was the street of Karl Liebknecht, Rosa Luxemburg and Karl Marx. Other Simferopol street also changed the name. For example, street Thieves became Vorontsov and Lenin Street - Lazarevo.
The most famous places of the city
The most calm and considered oldDolgorukovskaya street, where there are green areas in large numbers. The most interesting here is the design of the Simferopol Art Museum. The building was built for the Officers' Assembly in 1913 is the ending of street Dolgorukovsky monument, which established in 1842. During this remarkable monument is the Cathedral of Alexander Nevsky. Until now, there is under construction. The temple is to become one of the best architectural monuments of the city. Earlier on this place there is another temple, which was blown up in 1930. After World War II created here Victory Square with a monument to soldiers-liberators. On the right side of the temple is a building of the State Council of the Republic of Crimea, which has an unusual shape. If you walk a little further, you can reach the streets intersection of Pushkin and Dolgorukovskaya. Here is the "Simferopol Arbat" with theaters, museums, shops.
The main area of ​​the city is considered to be theatrical. Several buildings in this area attracted the attention of its original architecture. These include the house where lived Anna Akhmatova (now there's a literary cafe), building a reading room Library. Pushkin. At the Theatre has a unique wall decorated with bas-reliefs of famous people who took part in the fate of Simferopol.
Photos streets of Simferopol