Aquariums in Simferopol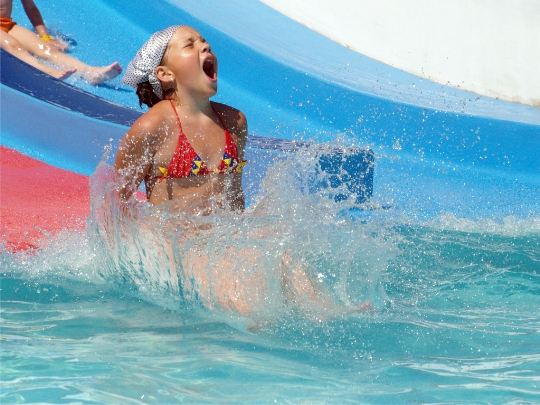 Most fun to spend time in Simferopol - is to visit the local water park with safe water attractions and slides for all tastes.
Waterpark in Simferopol
The local water park, suitable for both leisure energetic young people and families with children, visitors will be coming:
swimming pool with sun loungers in the water;
Jacuzzi and channels with flowing water;
water rides "Amazon", "blue haze", "Jungle", "red pepper";
playground for children (there is a children's café, swing, dry rides, passages, bridges, ropes, ladders);
restaurant, whose menu includes dishes of European and Oriental cuisine, and a cocktail bar.
In addition, the water park you will find a first-aid post, showers, toilets, changing rooms protected, mini-safes for valuables, parking space.
The cost of a 4-hour visit: adult ticket - 900-1000 rubles, the child (the growth of 90-130 cm) - 600-700 rubles.
Water Activities in Simferopol
We were pleased with themselves and their children visit children's park,you should look at in here Aquarium (cost of attendance - 90 rubles) - there live turtles (of particular interest is Turtle Albino), shark, catfish, tropical fish and the Atlantic Ocean, a few species of snakes and even a crocodile.
Proponents of beach holiday can head onbeaches Simferopol reservoir - the territory of some of the 4 beaches intended for swimming, landscaped cabanas, and if desired, it is possible to rent chairs and umbrellas. Despite the fact that the local beaches are no rescue station on the Central beach (famous for its fine clean sand and gentle and smooth descent into the water) in the summer is a temporary rescue post. And if you are interested in relaxing on the fine-pebble beach, look at the beach number 3 (location - right side of the Simferopol water basin) - it is attractive for visitors due to its purity and transparency of water. But since there is no special infrastructure, it is necessary to take care of the supply of provisions and water.
Apart from the beaches Simferopol offersvisit the various complexes, a swimming pool. For example, you can find them, "Consol-sport" in the sports and fitness club (wishing to offer to use the program SPA-tour one day, including a visit to the heated swimming pool and sun loungers, a Jacuzzi, a relaxation area, sauna complex, massage, lunch in the restaurant "Premium"), "Medical SPA Beauty Plaza" (held here also classes in water aerobics, including pregnant women), "Infinity" SPA-center (at your service - large swimming and children's pools, Turkish, Russian, herbal bath, whirlpool).
Photo