Beaches in Sudak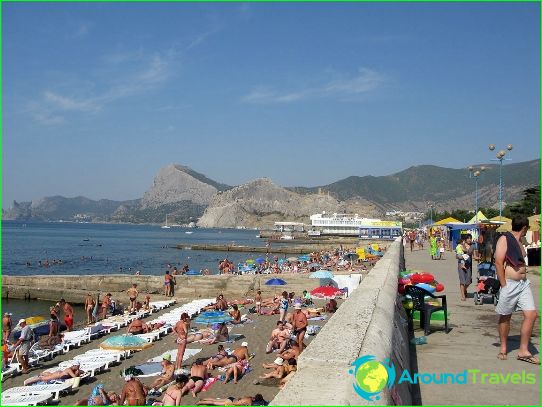 Sudak - Crimea is an international shopping center andone of the oldest European cities. On its beauty every year thousands of tourists come to see and relax on the local beaches, even when the season already seems to be long over. Beaches Sudak available to almost everyone, but local prices and allow to rest here alone, and the whole family.
South-east of the Crimea offers to visitors not onlyan abundance of interesting and informative tours, but only fresh air, as well as exciting and even a little dangerous walking in the mountains. In Sudak can be cheap to rest with maximum comfort, while at the same time also enjoy numerous entertainment and many other services. The best sandy beaches of Sudak and impeccable service combined with the stunning scenery will rest in Sudak truly unforgettable.
Activities available to everyone
Surprisingly, the owner of every budget can afford to rest in Sudak. At very reasonable prices can provide these services for travelers:
rides and water slides for children;
playgrounds for children;
visit health resorts and sanatoriums;
vacation on the beaches with mud;
comfortable accommodation at a reasonable price.
Thus, Sudak enables not onlyhave a good rest and recuperate after a year of hard work, but also "podshtopat 'health and to feel young again. Local service - a service of very high quality, so worry about annoying problems travelers will not have to: everything will take care of local workers. For families with children in the local hotels there are several options for the children's menu, and convinced vegetarians too will find food to your liking.
In Sudak, be sure to taste the winesCrimean production, which are considered very high quality and delicious. Local cafes offer a wide range of national dishes, and bars provide an opportunity to try the unique author drinks.
Nice price and high quality service
Tourists who come annually in Sudakrelax a bit, does not cease to be surprised with low prices and very high quality local service. It is noteworthy that all the campers, who at least once visited this wonderful city, consider it their duty to return again and again here.
The most popular pensions Sudak considered: Recreation Complex "Sudak", "Zenith" guest house, a boarding house "Star" resort "Sokol", Pension "Little Raccoon" and a set of "New World". Stunning nature, swimming in the cold lake water and equipped beaches complement the overall impression of the rest and forced to come here at least one more time.
Photos Sudak beaches