Water parks in Sudak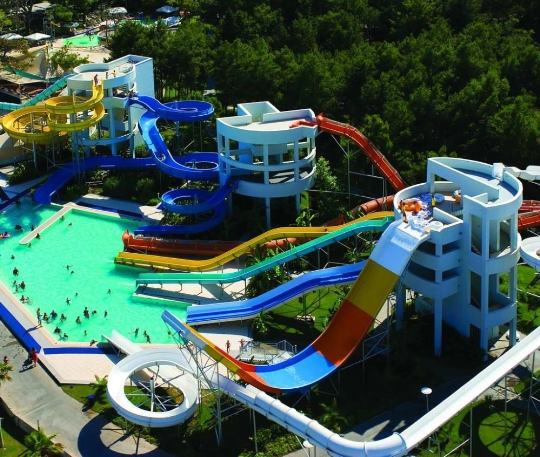 Pike peculiar and unique, which alone is worth a visit to the local water park - the water of the kingdom!
Water park in Sudak
Guests visiting the water park "Water World" are:
water rides "Orange River," "Vortex", "Boomerango", "Superloop" (you need to go into the capsule), "Bluebeard," "SuperBowl" Women's Passion ";
cascades, fountains, a river with a counter, geysers;
a children's pool with fountains and slides 3;
sports complex "ship" with lazami, transitions, slides;
cocktail bar "Aqua Bar", a pizzeria, outlets.
Day "Water World" happy little guests of the show, andAdults night - discos. Important: guests are advised to pay attention to the fact that all labels attached slides describing the descent of the rules, in particular, is reflected there as well to make the descent of the body position.
Prices for entrance tickets: adult - 1300 rubles / all day (4-hour stay from 14:00 - 1,100 rubles), and children (1-1.3 m) - 1000 rubles / all day (900 rubles / 4 hours). The price includes the use of showers, changing rooms and toilets, equipped places for sunbathing (sunbeds and umbrellas), circles to descend from the hills. In the water park are available in the form of additional services lease of safes for valuables and lockers, massage, akvagrima, photo services.
Water Activities in Sudak
If you are attracted to boat trips, youYou can take a mini-trip on a boat or ship "Black Sea" along the bays of Novyi Svet and Sudak (duration of boat ride - 1.5 hours: it involves the commission stop for swimming on the Imperial beach).
And if you want you can go on a 6-hour tour of the sea on the ship "Diana Trivia," in the direction Pike - Koktebel - Sudak (supposed to visit Koktebel Dolphinarium).
From beach activities are available in Sudakfollowing: driving on tablets and bananas, catamarans and gidropedah, windsurfing and parasailing (take a look to the beaches of Cape Meganom, as well as to the beaches of "Mojito" and "Kapsel").
Are you interested in dive diving? You will be prompted to dive at the following locations: Cape Fishermen (route involves immersion to a depth of 20 m in order to study grottoes seek-hvostokolov), Cape Meganom (immersion lighthouse involves the study of underwater caves, at the end of which there is a large air chamber, where it is possible to do unique photos), Predatory bay (where you can see the cave "Monte Cristo" - passing through the corridors of the cave, you will come to a fresh water lake). In addition, wishing to offer explore the torpedo boat - go into the hold, accommodation, wheelhouse and the engine room.
Photo