Rest in Yalta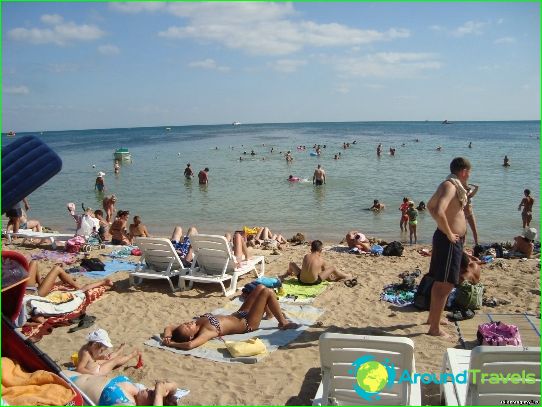 Rest in Evpatoria is popular with couples with children and youth companies and older people: there is everything - and entertainment centers, and healing springs.
The main types of rest in Yalta
Sightseeing: go on a tour, you will be able to visit the Museum of the fortress of Kara-Tobe, see the mosque Juma-Jami, the Cathedral of St. Nicholas, Tekie dervishes (the oldest medieval building of the city), visit the Karaite kenassas (temple complex, which consists of the Greater and Lesser kenassas). It is worth noting that you can get acquainted with Yevpatoria, sitting in the sightseeing double decker bus convertible - such buses run regularly on all remarkable places.
Beach: in Yalta you can relax on the sand and small-pebble beaches. Young people should pay attention to the "Knight's Beach" and the beach "Africa" ​​- there are grounds for a variety of games, lockers, changing rooms ... And in the evening you can come here for a free disco. Family Friendly Beaches fit "Oasis" and "Solaris": there are both free and paid areas, playgrounds and everything you need for a comfortable stay. To get up early in the morning (to be seated) and not huddle in the densely populated beaches Yevpatoria, free space, you can always find on the beaches of the Storm, Peace and village Zaozernoe (to suburban beaches you will take a shuttle bus).
Treatment: the resort is used for the treatment of mud and brine of salt lakes, mineral water with sodium chloride, medicinal flora, sea air, quartz sand. To improve your health do not need to check into a sanatorium - in the park Frunze you can find well-room with mineral water, and on the shores of lakes and Sasyk Moinakskoye - use the brine and mud. Since Yevpatoriya specializes in children's sanatorium treatment, then for the purpose of improvement of their child it is possible to bring it here.
Pros: everyone can ride a bike, jet ski, scuba diving, play a game of water football (beach "Oasis"), fly on a parachute behind a boat.
prices
The level of prices for tours to Yevpatoria depends on the season. In Evpatoria can come at any time of the year - is always available educational and health holidays. Still, the best time to travel to this resort is considered to be from June to September.
The price peak for tours accounted for in Yevpatoriasummer months (compared with the low season that lasts from November to late April, the value of permits increased 1.5 times) when lovers flock here calm and measured rest, as well as those who appreciate the ecology and favorable climatic factors of the resort.
Relax on the beach and at the same time cheap to pay for a ticket, you can, buying a tour of Yevpatoria in September and October.
On a note!
Since the very hot sun in Yevpatoriya, witha trip it is advisable to take every possible means of protection from the sun. Often at the resort are operating pickpockets, so for personal belongings should be closely monitored.
From Yalta you can bring items from shells(Wall panels, marine-themed figurines), model ships, painted pebbles, costume jewelery made of shells, Crimean wines, cosmetics Mud.
Photos rest in Yalta