Beaches in Alupka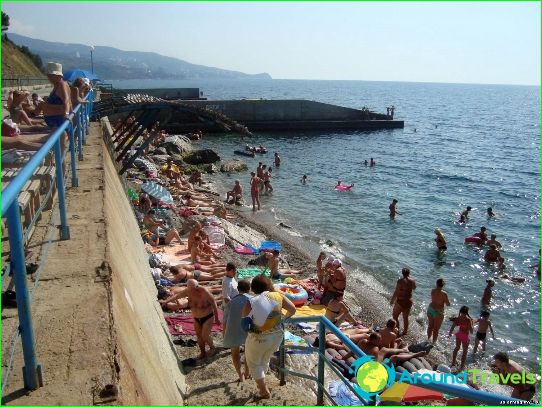 Alupka - a small resort town locatedon the Black Sea coast. This resort has a variety of beaches. All places of beach holidays Alupki are publicly available and public (the decision Alupka City Council), charging an entrance fee and is a violation punishable by a fine. Implementation of this Regulation control of a special parliamentary commission.
City Beach
Pebble beach with boulders of large size,so that children can be interesting to spend time, while adults enjoy the beautiful nature. The beach is located piers and breakwaters. The level of infrastructure development is good enough, there are:
1. Bar, where you can taste delicious dishes and refreshing drinks.
2. Changing rooms.
3. Showers.
4. Loungers.
5. Sun umbrellas.
The city beach is ideal for travelers who rented a house in the eastern part of the city, it is located near the Vorontsov park.
Beach Cote d'Azur
You decide to rent a house in the county bus stationor Slobodka? In this case, the best holiday destination Côte d'Azur will be, because it is close to the bus station. The beach is divided into three sections, separated by piers. Two pebbly shore, one - Sandy. Vacationers will be satisfied with a convenient entrance for cars, a cozy bar, a presence-equipped locker rooms. If desired, you can rent sunbeds. At the same time it should be noted that the stones of the Côte d'Azur, located to the west attract nudists.
Black Hillock
Many beaches in Alupka deserve attention, butBlack Hillock is recognized as one of the best. It is located on the territory of the sanatorium "Rainbow" in a beautiful bay. Not far from the beach, the bus station, Cape Verde and area Slobodka. It is important to be prepared for the fact that sometimes a strong sea state leads to a narrowing of the beach, so the rest is best in a warm and calm weather. On the rocks to the west you can swim for people who want to dive or even catch mussels.
Beach "Frog"
You have come to Alupka with your child and want tofind the perfect place to relax? Then pay attention to the beach "Frog", which is located near the sanatorium "South Coast" and is the newest of the artificial. The area is large, although the majority of the sections belong to sanatoriums, for other travelers and have enough space. It offers one of the most beautiful views of the majestic Mount Cat.
Alupka - a wonderful resort of Crimea, rest here please even the most demanding tourists. The best sandy beaches of Alupka are waiting for you!
Photos beaches Alupka