Beaches in Partenit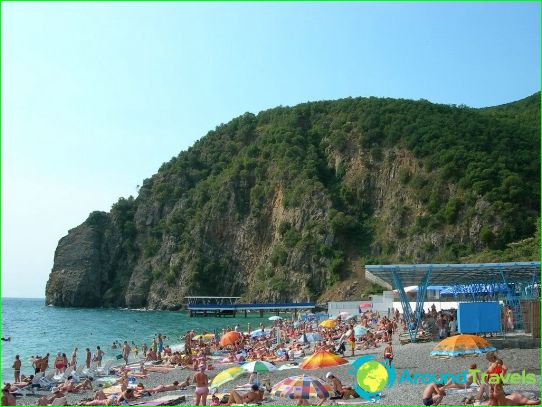 Resort town Partenit is conveniently locatedbetween Alushta and Yalta, occupying part of the picturesque valley at the foot of Ayu-Dag. Beaches in Partenit surprisingly clean and well maintained. The majority of them belong to sanatoriums, so a visit is required to issue a special permit. For it is required to deposit a certain sum.
The beach resort "Crimea"
This beach is located in the western outskirts of the village. Login for guests of the village - for an extra charge, but the locals this rule does not apply. It is very clean. For the convenience of the visitors, there are changing rooms, where you can change clothes, shower with fresh water, coffee. You can rent almost everything from deck chairs and ending with an inflatable mattress and flippers for swimming. The beach is always full of visitors.
Central beach
It is a small, covered with a shingle beach. However, sometimes there are large stones, but also smoothly planed sea. From the facilities there is room for changing clothes, toilet, possible to rent a lounger. The water is crystal clear bay and the entrance to the sea flat, so the beach is always a lot of visitors. The fee for entrance to the beach will not be charged and this fact makes it even more attractive.
Village beach
It is the "wild" beach, half of which is covered with sand, and the second part - the classic stony beach. If desired, there can be plenty nakupatsya and great for sunbathing. People almost none.
The beaches belonging to the sanatorium "Karasan"
These beaches do not differ from the townshipbeaches. True there are stationary awnings and the same beds. The beaches occupy a fairly large area and are located between several breakwaters. Here there is a beach area, covered with small pebbles and large stones. It remains only to choose the most impressed you the natural cover. No additional services will not be offered to you here, so just enjoy the gentle rays of the Crimean sun.
The beach belonging to the recreation center "Tavrida-Azot"
This is one of the most organized beachesPartenit. All space beach area is covered with shingle. It is equipped with a fixed canopy, locker rooms, comfortable beds. The descent into the shallow sea and on one of the breakwaters to provides a solarium.
Municipal beach
Log in here is free. The descent to the sea looks like a stage, so you can sunbathe, not only lying, but sitting.
This is all the beaches in Partenit. Of course, not all provide the ultimate in comfort, but so does it matter when the next tender Black sea.
Photos Partenit beaches