Cruises on Crimea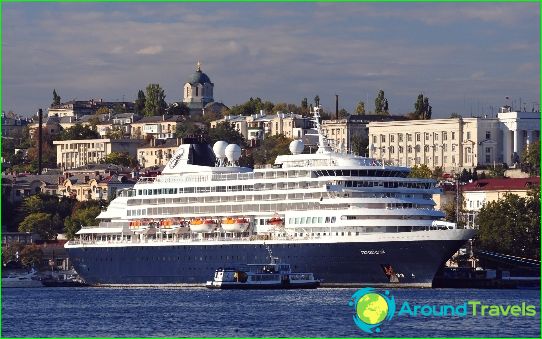 The most favorite place of beach holidays Russians stillfrom Soviet times, the Crimea and today attracts tourists from many countries. The reason for this - and low prices, and a great climate, and the legendary hospitality of its inhabitants, and cruises on the Crimea, allowing to see in a short time the most unique and picturesque corners of the peninsula.
Boat tours
Tired of doing nothing on the beach, the active parttourism fraternity storm travel agencies in search of adventure. The most memorable experience you can get on the boat ride, cruise on the Crimea, routes and sightseeing component which can be very diverse, and travel time will be a few hours:
In the area of ​​Balaklava tourists a unique opportunity to see the carnelian beach, sea caves at Cape Ai-I and Genoese fortress, preserved since the Middle Ages.
Walk off the coast of Sevastopol will talk about the past and present of the city, will acquaint travelers with the most important sights - the bay of a hero town, Chersonese lighthouse and the grotto of Diana.
Longer cruises involve a few days in the Crimea exciting sailing on an interesting route:
The route, which runs from the west to the eastcoast, will present to the participants the city Yevpatoria and Sevastopol, Yalta will open the best place and Mishor, show Mountains and Bear Cat. Guests of the cruise can sunbathe and swim in the secluded beaches, taste the best wines of the Crimea in the cellars of Massandra and find your Carnelian on Cape Fiolent.
The walk from the Pike perch to Sevastopol will allowsee the southern coast of Crimea in all its splendor. In Sudak guests get acquainted with the ruins of the Genoese fortress, and in the New World - the plant the best sparkling wines.
Going on a ship from Sevastopol to Yalta,Travelers will learn a lot about the history of Crimean cities, visiting palaces and admire the park ensembles, sunbathing and swimming on the most famous of the Crimean beaches.
Birds of a feather ...
Fishing during the cruise in the Crimea - a greatway to spend a vacation, doing what he likes. During the boat ride there is a possibility to fish on the high seas, and during the vessel stops. Catch the best way prepared right on board and will be served to the table. No less delight of sea cruises are experiencing and exploring underwater lovers. Divers do not consider the Black Sea for the most successful realization of their desires, but also at the bottom enough interesting and exciting, especially for beginners.
Photo cruises in Crimea