Rest in Alupka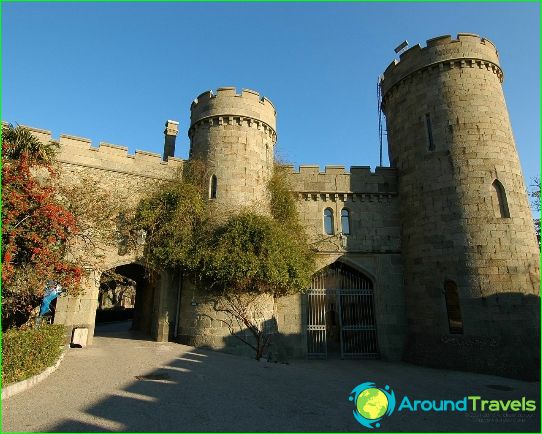 Rest in Alupka - this recovery, and quiet atmosphere and fun nightlife.
The main types of recreation in Alupka
Sightseeing: by going to one of the excursions, you will walk through Alupka Park, see Vorontsov Palace and Swallow's Nest castle. Who can go to a wine tour includes visits to factories and wine tasting (such excursions can be booked at the Quay consultants or near the central bus stops). So, you can visit the tasting room "Massandra".
Active: tourists can visit the Marine walk on a boat ride on a water bike or a banana, to climb Mount Ai-Petri, have fun at the disco and take part in the entertainment program in the nightclub "Plasma" (music format - Trance, Electro, House, Minimal).
Beach: if you want you can go on a pebble city beach (here installed breakwaters). Here you can change in the changing rooms, walk along the pier, relax under the sunshades, rent beach equipment needed in the rolling step, a snack in the cafe. And you can opt for a beach vacation "Côte d'Azur", which consists of 3 sections - 1 sandy and pebbly beaches 2. It has changing rooms, the rolling point (rental of beach equipment), bar (snacks and soft drinks). Vacationers with children should visit the beach "Baby bath": there are locker rooms and rental couch.
Wellness: specialization of local health centers - treatment of diseases of the cardiovascular and respiratory systems. Medical base is built on halotherapy, herbal medicine, aromatherapy, climatotherapy, physiotherapy.
Prices for tours to Alupka
Rest in Alupka year round (fall, springand winter - a good time for wellness programs and excursions, and summer - for a beach holiday), but the most successful period for traveling to this resort is considered to be May-October. The increase in the cost of permits is observed in June-August (price rise to 35-65%), and expect to acquire the most profitable tours to Alupka can be in the winter (at least attractive prices in the late autumn and early spring).
On a note!
Plans to visit Mount Ai-Petri should takewarm clothes (even in summer the top is pretty cool). To get here you can by cable car or van (the road will pass through the scenic).
Families with many children it is advisable to take with you on vacation corresponding certificate that their children were able to get discounts on many forms of entertainment.
Seasoned travelers are advised to bring out Alupki figures of lions made of clay or plaster, wool products Angora sheep and goats, paintings, crafts nautical theme, wine.
Photos rest in Alupka