Alone in the Crimea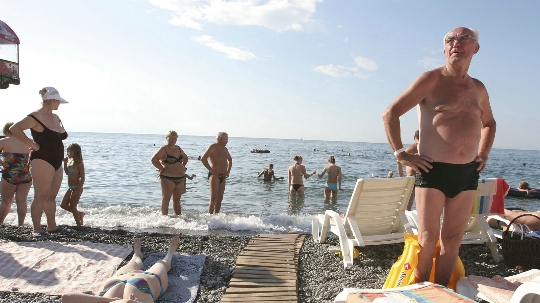 Favorite vacation spot Russian travelerssince the Soviet era, the Crimean peninsula, and today is popular with guests of all ages and professions. Every year in the Crimea alone thousands of fans flock to the sea and the sun, grapes and barbecue, exciting excursions and quality beach holiday.
entry formalities
Since 2015 Russian residents can get to the Crimea in five ways:
Buy a combined ticket that includesRailway segment "Moscow-Krasnodar" or "Moscow-Anapa", bus part of the way from the ferry port, the actual ferry across the Kerch Strait and again the bus to destinations in the Crimea. This option involves several changes, but the convenience of having a tourist who went on their own Crimea, is delivered to the end point of the trip.
To go on a direct train crossing the Strait via ferry. The final destination - Simferopol, where the place of rest will have to travel further.
Car ferry across the Kerch ferry. To avoid queues, experienced autotourists advised to buy an e-ticket in advance online. Even in the case of delay to your ferry owners of such travel are automatically eligible to sail in the next near.
By bus from Moscow to Semfiropolya or Kerch and further - by ferry.
By plane to Simferopol.
Bread and overnight
Alone in the Crimea has always been made to come "savage". And today in the region, you can rent a house for every taste and budget, bypassing the large buildings of sanatoriums and rest homes.
Prices for accommodation, food and entertainment Crimean depend on the particular resort:
The most expensive city in the peninsula - Yalta. Accommodation for person per night here will cost not less than 1,500 rubles, and lunch at the cafe, "pull" at 200-500, depending on your preference.
Pike is considered a budget option and find a room here is quite real for 800 rubles per person, and in Feodosia and did manage to rent an apartment for 700 rubles per night.
food prices in the Crimea is very dependent on the city,level cafe and the degree of interest of its owners in receipt of income. Budget business lunch in tourist eateries can be bought for 150 rubles, and for dinner in the restaurant for two of Sevastopol easy to get an account on the 3000.
The famous Crimean wines from the New World are from 600-700 rubles per bottle conventional brut 3500 - for "Chardonnay Paradise".
Photo