Railways Crimea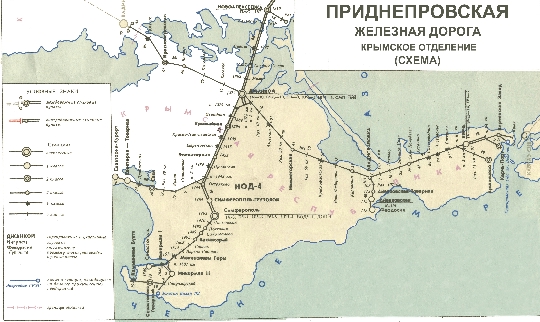 Railways Crimea and Sevastopol are servedUnitary Enterprise KrymZhD (Crimean railway). Through traffic routes will link such cities as Simferopol, Sevastopol, Saki, Evpatoria, Kerch, Feodosiya, Dzhankoy, and others.
Development of the Crimean railway
State Enterprise "Crimean Railway"formed on the basis of the Crimean branch of the Dnieper railway in March 2014 the railway network does not cover the Tarkhankut and the South Coast. Passenger traffic occurs between the Crimea and Voronezh, Moscow and Rostov-on-Don. Driving traffic is intermodal: train - steam - train. As part KrymZhD there are 3 locomotive depots: Kerch, Simferopol and Dzhankoy.
In the spring of 2014 SC "Avtodor" and JSC "Russian Railways" company founded "Kerch bridge crossing", whose main task is the construction of road-rail bridge across the Kerch Strait. The bridge will have a length of about 19 km. Kerch, Kerch reconstruction branches - - Armenia and the establishment of new stations and construction of new w / d branches Simferopol planned.
F / A bridge across the strait - an opportunity to reduceto a minimum time to move through the water space and increase passenger and cargo turnover. Earlier KrymZhD supporting the transport of passengers between the Russian capital and Kharkov, Donetsk, Simferopol and Krivoi Rog. Currently, communication between Ukraine and Russia stopped. Buy a train ticket can be online by visiting train.crimea.pro. F / tickets go on sale not earlier than 45 days before the departure date.
How to get to the Crimea by rail
Crimean railway route offersMoscow - Simferopol, which runs through Russian territory. En route passengers spend 44 hours. The train should be up to the station "Caucasus", then passengers change for the bus and run to the port "Caucasus". There, they ferried across the Kerch Strait and arrive in Kerch, where again take their places in the train and follow to Simferopol.
To get to the peninsula, are not necessarilyuse railways Crimea. Enough to use the services of OJSC "FPC" ( "RZD" division). The route involves traveling on the route Moscow - Anapa and Moscow - Krasnodar. Passengers then transplanted to the bus and follow to the port "Caucasus", which ferried across the Strait. After arriving in Kerch on the bus they go to Yalta and Feodosia.
Photo