Prices in Alupka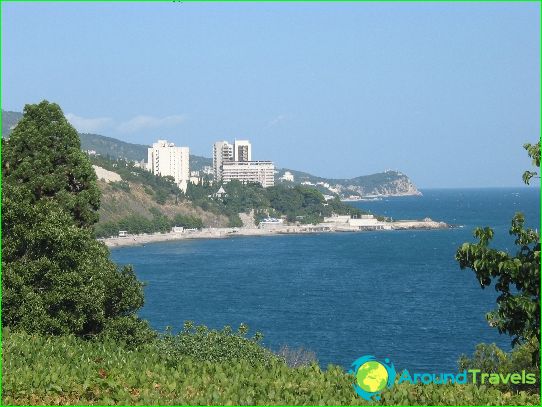 On the southern coast of the Crimean peninsula ispopular resort Alupka. It is a favorite resting place on the Black Sea coast, with many tourists. Alupka is a national health resort, which offers recreation for more than 20 sanatoriums and hospitals. The city has a favorable location - at the foot of the Ai-Petri, so it is closed from cold winds. Prices in Alupka for rest are the same as in other resorts of Crimea.
Excursions in Alupka
The resort looks very picturesque, thanksNatural landscape. A simple walk through the streets of the city itself is an interesting excursion. During your stay you can take advantage of a variety of tours. For example, a sightseeing tour of the sea Big Yalta, which lasts 15 hours and costs at least 30 dollars. During the walk, tourists get acquainted with the sights of Yalta bay. Sightseeing bus tour of Alupka and the surrounding area is worth $ 15. It includes visits to such famous sites as the Swallow's Nest, Vorontsov Palace, Alupka Park, the promenade of Yalta, and others. Power tourists are not included in the price of this tour. Prices of tours depend on the duration of the program. In Alupka you can ride a cable car. The fare one way for an adult is 175 rubles, for children - 90 rubles.
Where to live in the tourist Alupka
Most vacationers are trying to pick upaffordable housing in the private sector. Comfortable rooms at affordable prices offered by many guest houses. Budget options have a minimum of amenities. In the summer prices in Alupka on housing are too high. Moreover, prices are rising every year, as the owners are tangible costs due to inflation. Despite this, the cost of holidays in Alupka is available for a wide range of tourists from Russia and other countries.
In July, the price of the room for one personday is 700-1000 rubles. In September, the number of economy class in the hotel can be rented for 800 rubles per day. For a surcharge, leisure available the following services: laundry - 250 rubles, a sauna and a swimming pool - 450 rubles for 1 hour of car parking - 125 rubles. Looking to rent a room in a private home ownership possible for 750 rubles per day per person. Vouchers for pensions and hotels typically include food accommodation. Tours must be ordered separately.
What to buy in Alupka
Buy beautiful souvenirs can be on the market,Located near the banks cableway. Locals offer handmade products:. Handicrafts, toys, souvenirs, figurines, etc. Here, buy clothes, which was created from the wool of angora sheep and goats. Prices in this market are very low.
Photo