Crimea River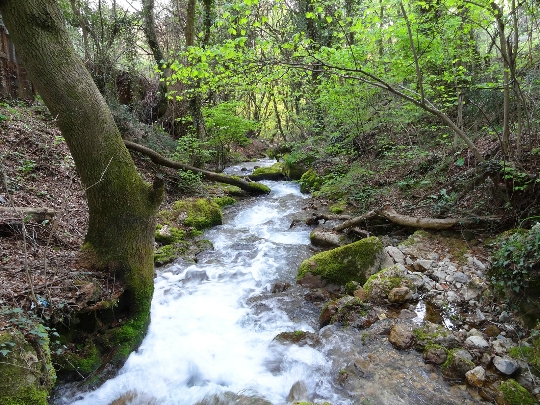 The Crimean peninsula is washed by the warm waters of the Blackand Azov Seas. The area of ​​the peninsula is quite varied terrain and according to the Crimean rivers are divided into two categories: the plain and the mountain. Many of them are dry in the summer, but with the onset of the rainy season gain the lost power.
Salgir
Salgir It is the longest of all Crimean rivers. Its total length - 204 kilometers. Together with the inflow of Bink-Karasu are the largest water system of the Crimea.
In its upper reaches - is a typical mountain river withtypical fast-flowing and forming waterfalls. It was only from the middle of the flow, it becomes more relaxed, but at the same time significantly reduced the amount of water in the mainstream Salgir.
In the waters Salgir found roach, perch, crucian carp. When fishing in the upper reaches of the river, you can even catch a trout. Since the climate in the Crimea warm enough, the winter fishing is excluded, as the river is almost frozen. If, however, the ice is formed, it can not go on it.
Alma
Alma - the second longest river of the peninsulaafter Salgir. The lower and middle reaches of Alma passes through large orchards. It is hence the name of the Alma River, which translates as "apple".
Traditionally, in its upper reaches - this lush mountain river that during the descent to the plain becomes much quieter. Alma never dries, and therefore ready to welcome guests all year round.
The river is characterized by uneven numberfish. It all depends on the selected gear for the current site. Thus, in the upper and lower reaches, you can catch a chub, trout, gudgeon, barbel and Bystrianka. On average, they are joined by carp, but in the mouth of Alma, you can only catch chub and gudgeon. Alma reservoir will delight fishermen roach, pike, carp and minnows.
Kacha
Kacha River is somewhat shorter, but muchfull-flowing Alma. The source of Kacha is the confluence of two mountain rivers - the clerk and Bink-Uzen. By the way, the river catchments are the most beautiful places of the mountain area. During the rainy season, as well as in the winter and autumn periods Kacha can overflow the banks, but in the summer (due to active water intake), the river dries up.
Fishers Kacha like the fact that you can catch a stickleback, chub, barbel and minnows.
Belbek
Another full-flowing river Crimea, stretchingonly 63 kilometers away. The origin is the confluence of two mountain rivers. In the upper reaches, the passage between the mountain ridges, Belbek demonstrates stormy. But when leaving the plains for her cut of clay deposits, which significantly slows down the rate of flow.
In the lower reaches of the river are constantly dry, but due to strong rain is quickly restored. The waters of the river are rich chub, trout, barbel.
Photo