Crimea Trains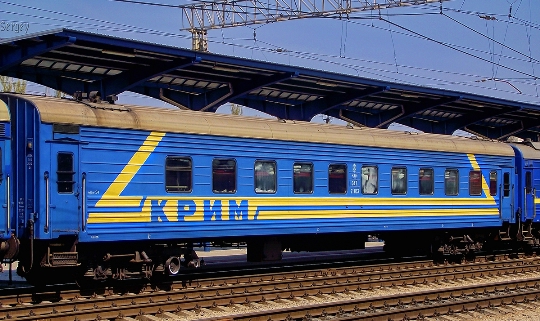 Get on the Crimean peninsula can be on the train,bus, plane and car. Many travelers prefer the trains Crimea. Tickets today are quite expensive. Trains through Ukraine is not yet walk, and the train passing through the territory of Russia, does not come cheap. A significant disadvantage of this mode of transportation - the lack of air conditioning in the car. The advantage of traveling by train - a trip can be moved on the car, read and relax.
Buy tickets on the Crimean peninsula
Tickets for the train to the Crimea should be bought in advance,If the trip is planned in the peak tourist season. Experts advise to think about buying them for 1.5 months before the planned departure date. To go to the Crimea, you can purchase a single ticket, designed specifically for tourists. It is created within the system, combining train, ferry and bus. One ticket - a convenient and efficient way to get to the popular resort. You can purchase it at any box office long distance JSC "FPK". Tell the operator the destination city, you will receive a single ticket that includes w / tickets to Anapa and Krasnodar, ticket for the ferry and bus, departing from Kerch. Flights single tickets maximum docked so passengers safely transplanted from one mode of transport to another. Learn more about single tickets on the site pass.rzd.ru.
What trains go to Crimea
Earlier in the peninsula were trains from differentRussian cities. Passengers had to pass customs inspection twice: near Belgorod, on the Ukrainian border, and at the time of entry into the Crimean peninsula. Due to the conflict between Ukraine and Russia were canceled routes that pass through Ukrainian territory. For this reason, it increased the popularity of air travel to the Crimea. However, the demand for rail transport remained. Train schedule in Crimea is on the Internet. To this end, you can look at perekop.info sites, allkrim.com and others.
Looking schedule time of departure andArrival should be checked with the manager of the railway station, to prevent misunderstandings. / Railway station in the Crimea, located in Kerch, Yalta, Sevastopol, Theodosia. Simferopol and Dzhankoi - a nodal station peninsula. Traditional tourist route includes a trip to Simferopol. Furthermore, travelers can transfer to a bus or train to get to the desired item. All Crimean trains run through the central part of the peninsula, passing Dzhankoy. Timetable varies according to season, so it should be specified before the trip.
Photo