Water parks in Alupka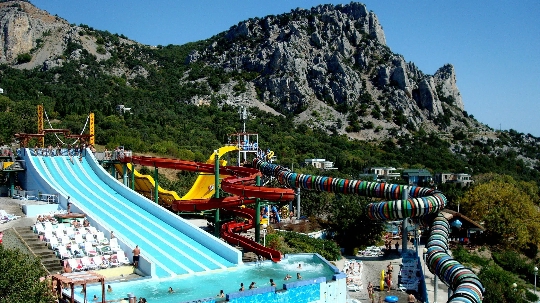 For those interested in water parks should pay attention to the closest to the Alupka complex with water attractions, located in the village of Simeiz.
There is a water park "Blue Bay" are:
5 swimming pools (large, small, round, wave, cascading);
waterslides "Multipista", "Tsunami", "Big Hole", "Bend", "boa", "Serpentine", "Topogan", "Family Constrictor";
Complex Relax Area with secluded bungalows;
Children's Services (mini-town with slides - reduced copies of adult amusement "Serpentine" and "Bend");
cafe "Aqua-Food", a pizzeria "Celentano" bar "Shark", a shopping arcade.
All day in the "Blue Bay" will costadult guests at 1,400 rubles (in the afternoon before closing - 1,200 rubles), and small (height - 0,9-1,5 m) - 700 rubles (Seen from the second half of the day - 600 rubles). Additional services: RelaxArea - 1000 rubles, storage room - 100 rubles + 200 rubles / bail, 2-person tent - 200 rubles / day, parking - 150 rubles.
After paying an entrance fee, in addition to rides and pools, visitors can use the sun beds, inflatable rafts, showers, toilets and changing rooms.
Water Activities in Alupka
Interested in accommodation facilities with swimming pools? Note the "Sersial Hotel", "Spanish Village", "4 Seasons" and others.
Proponents of beach holiday can head onbeaches "Cape Verde", where you can go on the pill, or bananas, as well as the inside of the ball on the water, or "frog" (here based dive center "Frogz", the services of which may turn novice and experienced divers). For example, during an underwater excursion you will be able to meet with sea urchins, jellyfish, crabs, stingrays, horse mackerel, gobies.
Travelers who decided to visit the beach"Vorontsov bath", waiting for infrastructure with deck chairs, beach bars, restaurants, souvenir shops. But before we go down to the beach, tourists are advised to walk along the Vorontsov park, located right under it, to admire the exotic plants.
Families with children perfect "Children's Beach"protected with 2 sides from wind and strong waves (in addition, the water is a few degrees warmer, and even then you can snorkel and jump off the rocks).
Another beach that deserves attention - "AzureBeach ": active leisure offer here ride a banana boat and water sports, and in the evening - to join an open-air who want to have fun at the disco.
If it is of interest to you seawalk, you will be able to ride along the waterfront of Alupka on the boat and enjoy the mountain Ai-Petri. The most interesting thing to go for an evening boat trips - they are accompanied by entertainment programs for adults, including a disco.
Photo