Western Crimea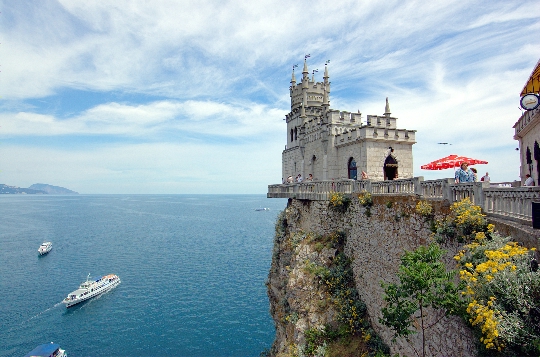 Long beach season, an ideal climate forfamily vacation, a large number of sunny days per year, not too high popularity among tourists, and an abundance of interesting attractions of different features make the West Crimea an ideal region for a holiday. Especially when you consider pleasant prices for accommodation, options which in this part of the peninsula is really impossible to count.
Cards on the table!
The main resorts of the west of the Crimea - the citySebastopol, Balaklava and Yevpatoria, and lesser known, but no less popular - Saki and the Black Sea. In this part of the peninsula, you can find beaches for all tastes - and the sandy and pebbly. Log into the water at all organized bathing sites rather shallow and the waves the temperature reached 20 in June. Resorts West Crimea chosen most often for families with children, and because of the relative silence and the absence of noisy entertainment, but the water parks, which will be interesting and the kids, and their parents, are built in the best traditions of the popular resorts in the world.
For active and curious
Besides the traditional beach holiday West CrimeaIt is interesting for those who are interested in history and local lore. Some attractions in the region is rightfully occupy a high place in the ratings of the most popular tourist destination:
Ancient city of Kara-Tobe built by the ancient Greeks andScythians. Accidentally discovered the ruins of the ancient settlement is restored, but today you can take an excursion to the museum of ancient artifacts collected during excavations, or explore the fascinating ruins near the town of Saki.
The ancient city of Chersonese today -a nature reserve in Sevastopol, consisting of a fort and a museum with unique antique exhibits. More than two and a half millennia ago, the city founded by the Greeks, and today archaeologists and historians to answer questions of visitors of the museum exhibition of the most interesting of its findings and discoveries.
From dirt to Kings
Saki resort on the west of the Crimea is known for itscurative mud, extracted from four salt lakes. Also mud curative effect is very water and brine from the bottom of reservoirs. In hospitals Sac patients get rid of many diseases of the musculoskeletal system, and dermatological problems, treat infertility, and chronic bronchitis.
Healing program, developed by physicians health centers, can be successfully combined with comfortable beach holiday in the west of Crimea.
Photo