Youth hotels Crimea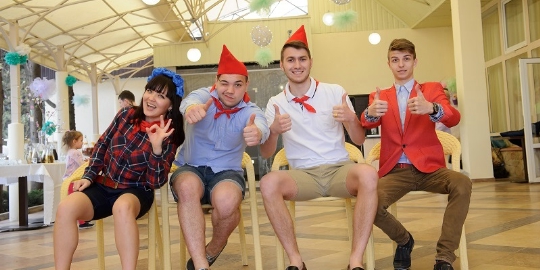 Rest in Crimea begins for many RussianTravelers with childhood memories, when the parents long before the longed-for holiday booked train tickets, and then rented a room or bungalow at the Crimean population from which it was only a few minutes walk to the sea. Modern Crimea and the like, and not too the one from my childhood, but rest on its southern shore is still liked by people of all ages. Youth hotels and resorts in the Crimea - is a great opportunity to enjoy the sea, warm and interesting events, annually hosts provide guests with solar peninsula.
Choose direction
Young people can be seen in any Crimean resort, but the most popular among those who have not yet celebrated his thirtieth birthday, rightly considered:
Yalta, where you can find accommodation and entertainmentevery taste and budget. Under the concept of "youth hotel" in Crimea hotel complex "Yalta-Intourist" is not very suitable, but those who are willing to pay for the service and an abundance of entertainment especially enjoy here. Housing cheaper offer numerous family hotels and resorts in the area and in the satellite towns. In view of the peninsula fairly compact dimensions, even from neighboring Alupka, Alushta, Gurzuf Simeiz, or you can always come to Yalta to a disco or nightclub. Taxi back is not too expensive, and the most indefatigable will not wait so long in the morning and the first minibuses.
can be removed in Feodosiya double room in an inexpensivedecent 3 * hotel and enjoy a beach holiday, alternating with active sports and other water activities. Youth of Crimea hotels in the region and presented in Koktebel, where traditionally a rest bohemians, students of theatrical and literary schools and other creative people.
In the evenings Sevastopol no room to swing fall onthe famous promenade and in nightclubs. This is one of the most popular among young people of Crimea resorts like sports and active tourists. Besides beach holiday Sevastopol ready to please its guests rich excursion program and the youth of Crimea hotels in the capital of the Russian fleet are quite affordable even for a young student families.
Republic KaZantip
Annual international festival of electronicmusic in 2015 returned to the peninsula, and is now the most popular youth hostel in the Crimea during the meeting - it is the hotel of Yevpatoriya. The place chosen by the organizers of the festival Kazantip - a small village Popovka near the resort of Yevpatoriya and passes it an incendiary event in the second half of the summer.
Photo