Leisure in Havana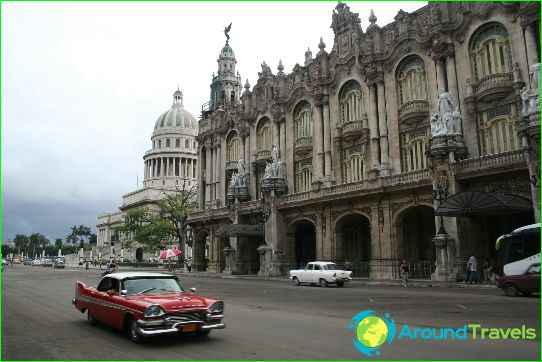 Holiday in Havana - it carnivals and festivals,followed by unrestrained joy and incendiary music, a unique ancient monuments, interesting museums, beautiful beaches, delicious Cuban cuisine.
The main types of recreation in Havana
Sightseeing: the excursions you will be offered to visit the Museum of the Revolution, the Museum of Ceramics, House Museum Hemingway, tobacco factory, Capitol, explore the Cathedral, the chapel of El Templet, Fortress Real Fuerza, the Monastery of St. Francis, the house of the Marquis de Arcos, José Martí Memorial, stroll through national botanical garden, try candy made by hand in the Museum of chocolate.
Beach: interested parties and discos is to go to the beach Santa Maria del Mar, divers will enjoy relaxing on the beach Tarara, and supporters measured rest - on the beach of El Megano. In addition, all beachgoers should look at the beach Bacuranao.
Active: each camper can go diving, parasailing, windsurfing, fishing (wishing to take part in competitions on certain types of fishing), spend time at the cabaret "Tropicana" (then arranged enchanting show).
Event: If you love to take part in the festival events, then go to Havana on the 10-day Festival (December), Jazz Festival (mid-December), Tobacco Festival "cigars" (February), Caribbean Culture Festival (June-July), International Havana opera festival (October).
Prices for tours to Havana
The ideal time to visit the Cuban capital - November-March. At this time, especially in the winter months, you should be prepared to purchase vouchers at a fairly high prices.
Economical tour is worth considering that inMay-October season begins tropical rains, and at this time the tour operators sell more profitable at the price of tours to Havana (they are lower by about 30-35%), but at this time it is very hot and humid, which creates not a very comfortable environment for excursions and relaxing on the beaches.
If you are one of those who regularly opens the "hunt" on the latest offerings, you should be aware that very often they appear in March (the savings can be up to 50%).
On a note!
If the street you are surrounded by children or adults,begging for pens, chewing gum or soap, keep calm and smile - in order to please them, putting the suitcases before leaving for Havana, bring small gifts for the Cubans.
To move on the capital comfortably on the bike: rented bicycle can not be left on the street - for this special velostoyanki intended. If you have any problems in the form of a flat tire or not adjusted seats, it is advisable to apply to the workshops Pocheria.
It's worth noting that the departure airport tax is charged.
Before leaving Havana, in memory of the town should get a rum and Cuban cigars, machetes, wooden figurines Cubans.
Photos vacation in Havana