The streets of Santiago de Cuba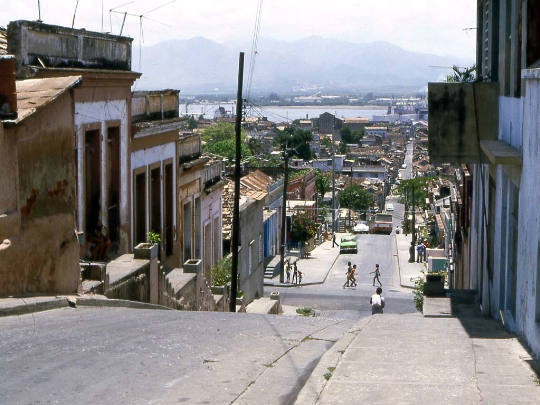 Santiago de Cuba is the second largestcity ​​in the country. He deleted from Havana to 880 km and has a population of more than 400 thousand people. The streets of Santiago de Cuba were built a long time ago, during the colonial era. In the city, numerous buildings belonging to this time.
Features city streets
Santiago is particularly atmosphere in whichthe impact of the sea can be traced. Here you can see the sloping streets and balconies hanging over the sidewalk. The town lies on the hills and surrounded by mountains that protect it from the winds. The population of Santiago de Cuba is represented mainly mulattos - descendants of immigrants from Jamaica and the French or Spanish.
The main streets of the city are the following: Heredia, Padre Pico, Enramada. Strolling through any of the streets, you can see a mixture of trends in the architecture of buildings. Neoclassicism and Baroque combined with the style of Spanish masters. At the heart of the old part of the city is the Parque Cespedes. This is a beautiful area, equipped with benches and gas lamps. It is located near the industrial area of ​​Santiago de Cuba. From the square originate streets of the Old Town. There is a beautiful cathedral with bell towers, Velazquez Museum, Government House, and others. Parque Cespedes on the perimeter is surrounded by souvenir shops.
Interesting places
To the west of the Park Cespedes is a buildingCasa de Diego Velazquez. This house has been recognized as the oldest in the continent. In Santiago, a lot of winding streets that go up or down. Popular street-ladder Padre Pico. On its steps, you can relax during a walk. At the top of the street offers a wonderful view of the city.
To see the city life of Santiago,it is recommended to visit the Dolores area. It is surrounded by buildings in the colonial style. Central commercial thoroughfare acts Enramada street that connects the port and the old town. Here is dominated by construction, belonging to the 20th century. During the colonial period Enramada was called Promenade. On weekends, the street becomes a pedestrian. Residents of the city are coming here to enjoy the shopping experience. On Enramada is located very many different stores. This street is the most well-attended in the city. In parallel, it runs a small street Aguilera. It has several attractive architectural structures.
Photos streets of Santiago de Cuba