Airport Kutaisi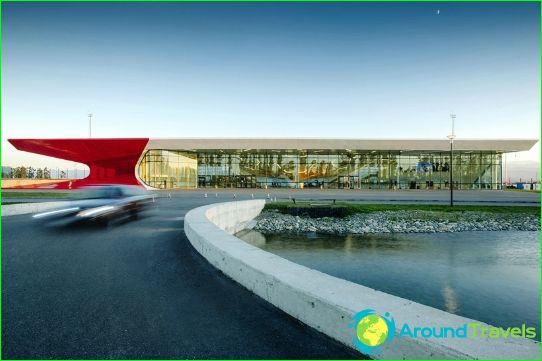 Airport Kutaisi named after the Georgian king Davi'da Stroi'telya IV of the Bagrationi dynasty, who ruled the country in the period from 1089 on 1125 years.
The second-largest airline in Georgialocated in 14 kilometers from the city center, in the direction of its western suburbs. His runway with the length of 2.6 kilometers, is equipped with modern meteorological and navigation system, and is capable of receiving aircraft take-off weight of 400 tonnes, including long-haul aircraft such as the Boeing 747.
Every day from the airport in Kutaisi go over 10 and flights to Moscow, Minsk, Kiev, Warsaw and other cities in the world. The capacity of the airline more than 250 passengers per hour.
History
Officially Kutaisi airport was opened inSeptember 2012, but the first aircraft, the company decided in August of the same year. It was a Boeing 747 aircraft committed a cargo flight character.
Construction of the airport in Kutaisi contributedsignificant economic development in Georgia. Steadily growing airline is constantly expanding the geography of flights and increase the flow of passengers. Today, the company has established air communication with Belgium, Germany, France and other European countries.
Tools and Services
Kutaisi Airport has a full range of services, the relevant international standards.
is provided on the airport territory and voicevisual information on the movement of aircraft, referral services operate in several languages, including Russian, as well as the necessary information is available on the official website of the company.
Air offers passengers piercomfortable waiting rooms, shops with souvenirs and the famous Georgian wine. A restaurant of Georgian cuisine and a café with oriental sweets. Throughout the passenger terminal there is free internet access.
The protection and safety of passengers provide separation of the local police and airport security.
Transport
On the forecourt organized paidparking for private vehicles (parking fee will be from 1 to 7 GEL gel), an on-site car rental services are urban taxis. In addition, the airport in Kutaisi there is a regular movement of buses.
Photos Kutaisi Airport