Prices in Batumi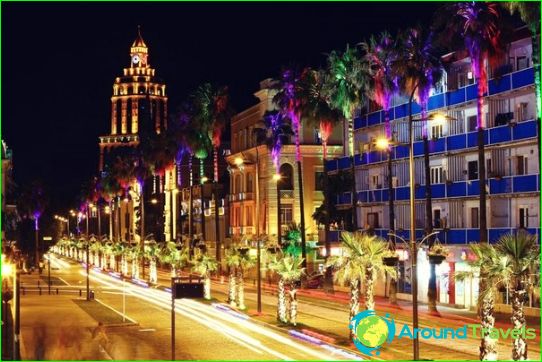 The resort city of Georgia - Batumi, became popularin the days of the Soviet Union. After the collapse of the Union in the sphere of tourism of the country there was a large decline. But Georgia is developing this direction rapidly in recent years. Tourists were again interested in the Georgian resorts, the best of which is considered to Batumi. New hotels have well-equipped beach in the city today are functioning. In this review we take a look at what prices in Batumi fixed to the main tourist services.
Accommodation at the resort
Hospitality - the main feature of the Georgianpeople. This quality mark almost all vacationers who visited the Georgian resorts. Recreation and services in Batumi has always been on a high level. For tourists are hotels of different classes. In addition, accommodation is possible in the private sector. The most popular hotels are Intourist, Sheraton Batumi Palace Ward and USRJII. The choice of rooms there varied. Therefore, a good rest in Batumi are people with different levels of income. It is interesting to everyone: families with children, students and seniors.
Hotels located near the sea, offerrooms at higher prices. For example, in the Radisson Blu Batumi, 5 * and offers rooms from $ 145 per night. Hotel Sheraton Batumi, 5 * hotel room from $ 160. In Batumi there are hotels of an economy class, whose services are cheaper. If you wish, you can stay with local residents in the apartment. To find a shelter, enough to pass on any street. Announcements of delivery rooms are usually placed on the fences. Accommodation can be rented from private owners for 10-20 dollars. Prices in Baku for the room from private owners depend on the distance from the sea, the degree of comfort of the room and the season.
Excursions in Batumi
The city has many museums, architecturalmonuments and beautiful places. Visit Adjara Museum of Fine Arts can be for 0.60 dollars. In Batumi, Adjara is also a museum, where exhibits of historical value. Return ticket is inexpensive. For walks suitable botanical garden, which contains a variety of subtropical and tropical plants. Even just a stroll along Batumi's very interesting. On the streets with buildings dating back to the 19th century.
Transport
From Batumi airport to the city centerget on the bus, buying a ticket for $ 0.25. A taxi will cost more - about $ 10. The resort can be reached by bus from any other city in the country. To get from Tbilisi to Batumi, you have to spend around 7 hours and no more than $ 15. Taxi on this route will cost 150 dollars. On the streets of Batumi walking bus and buses. Directions costs about $ 0.25.
Photo