Tours in Batumi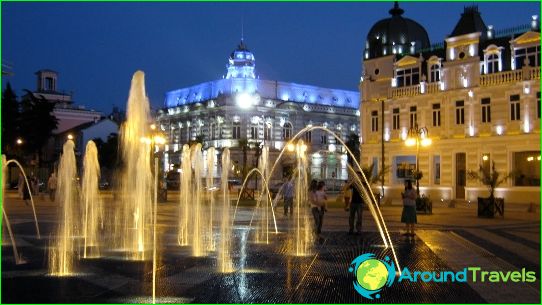 Most Black Sea and the hot sun, the bestkhachapuri in Adjara and friendly taxi drivers, delicate fragrance of flowering trees and cooked according to old recipes inherited from his grandfather wine - all of Batumi, the city of love, smiles and inimitable hospitality. For those who love Georgia and its traditions, things to do in Batumi - a balm for the heart, wounded by bad weather and the gray monotony of everyday work.
Briefly about the importance
Going on tour in Batumi should take clothesthe size of the more, because these parts kitchen did not leave a chance to return home in the same weight category. If we add here the hospitality of the Georgians and their long tradition of feasts, smoothly flowing of meals in dining, in the presence of a decent bathing suits may not be useful.
If we can break out of a warm feast, partYou can burn calories by taking a bicycle rental. It is this type of transport wins hearts as the Batumi youth and tourists, weary of the local value of servings in cafes and restaurants.
Hotels in the resort there are at very different taste,but the best from the point of view of the traveler - family guest houses. There may be no wireless internet, but the hospitality and cordiality will be significantly higher than stated in the brochure.
Direct flights from Moscow to Batumi International Airport lasts only 2.5 hours, and from Sochi, here you can get the ferry to the famous "Mikhail Svetlov".
Getting around the city is cheapest on taxis or buses. Average taxi also does not seem too expensive, but the price of travel is important to negotiate "on the bank."
Originally from childhood
One of the most vivid childhood memories of the roundsin Batumi - a walk through the Botanical Gardens. Going on vacation on the Black Sea coast, the Soviet parents tried to show the younger generation the best. Among the attractions of Batumi, in addition to the monument to Shota Rustaveli and Tamar fortress, then the Batumi Botanical Garden, founded in the late XIX century. Its collection includes more than five thousand species, including the New Zealand and Australian, South American and Mediterranean, the Himalayas and the Mexican plant specimens.
Batumi botany made an invaluable contribution to the development of subtropical crops, and all the inhabitants of the Soviet Union it was thanks to their efforts, were provided by the Georgian tea and tangerines for New Year holidays.
Photo