Water parks in Batumi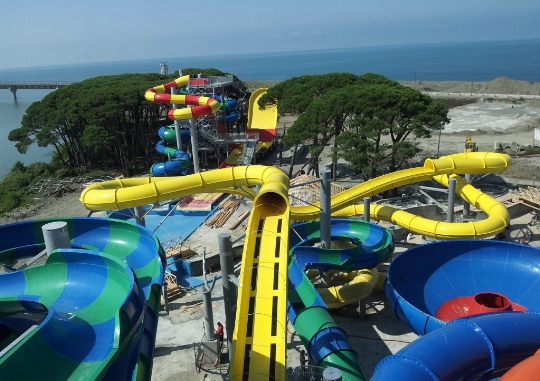 You are from the category of people who want to tickle your nerves and experience the extreme? Batumi offers you to visit the Extreme Park Hakuna-Matata, fear of the room, the local water park.
Waterpark in Batumi
Batumi has a water park:
swimming pool, including a wave pool and for group training in aqua aerobics and special classes for men (of 5), waterfalls, a "slow river";
6 slides;
baths complex (a Turkish bath) and spa-salon (available treatments as mud wraps, salt peeling, Turkish soap massage);
cafe-bar (you can eat ice cream and soft drinks) and a restaurant "Tower".
It is worth noting that there are provided for childrensmall slides and fountains, and adults can lie down if you want to on the lounger by the pool and relax under the umbrella. Entrance fee - 30 GEL (children's ticket costs a little cheaper).
Water Activities in Batumi
The main public beach is a Batumi Beachcafes and restaurants, water sports stations. In addition, there are organized beach discos such as "Prozac" and "Tarabua". If desired, you can go to the lake Ardahan (will give you a current of light-fountains and restaurants Adzharia and Chinese cuisines) or Lake Nurigel (on the coast you will find water rides and boat station, where you can rent a boat for trips on the lake). If you prefer a solitary pastime, take a look at the beaches of Kvariati and Gonio, located in the southern suburbs of Batumi.
Interest travelers can earnBatumi Dolphinarium (entrance fee - 15 GEL / matinee, 20 GEL / evening show, swimming with dolphins - 150 GEL / adult and 60 GEL / child): here daily visitors delight enchanting show with participation of 15 dolphins and 4 seals (you will see balancing on their tails, dancing, playing with rings and balls and other tricks).
And the aquarium in Batumi (the cost of a visit - 3GEL), you will be able to watch the ornamental fish, giant turtles of the Indian Ocean, the Caspian sea lions, the inhabitants of the Black Sea and the waters of the Pacific Ocean.
Indifferent to the diver can offerdive in the vicinity of Batumi - Sarpi (can be combined with the hunting of croaker, mullet, sea cat, flounder) or Kvariati (you will find a viewing rocky terrain, underwater farm mussels, especially the flooded ship "Vladimir Pachulia" and the artificially created around the coral reefs ). It should be noted that those who can stay as an orientation dive dive and pass certified diving courses (introductory dive with a group of 3-5 people - 65 GEL / 1 person; training for certification Open Waterdive - 600 GEL).
Photo