Tbilisi Areas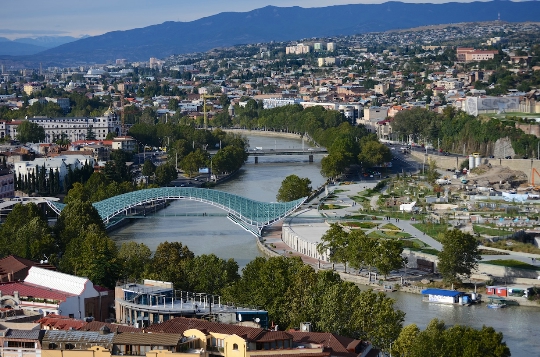 Take a look at the map of the Georgian capital, tosee Tbilisi districts - detailed acquaintance with them will allow you to quickly navigate in an unfamiliar city and to get to places of interest. To Tbilisi districts are Mtatsminda, Vera, Avlabari, Vake, Chugureti, Ortachala, Didube, Saburtalo, Old Town, Sololaki.
Description of the main areas and attractions
Mtatsminda: famous Pantheon (is the burial place of famous artists, such as Griboyedov), temple Kashveti (here is to come to worship the icon of Saint David, as well as admire the altar, painted stone carved lace), the Museum of Art (here admiring the paintings, icons, figurines, kitchenware , Indian shawls, Persian and Turkish rugs).
Avlabar: famous cathedral Sameba (its walls are decorated with icons and frescoes, and the floor - marble, combined with beautiful mosaics), the palace of Queen Daridzhan (in addition to the palace there is the church of design elements of Arab architecture) Park Rica (a walking avenues, bridges, swings, wall to climbing, flower beds, "dancing" fountain, a stage for performances of creative groups, a maze and a playground), Metekhi church (inside you can see the tomb of the Great Shushanik Ranskiy), the ruins of the cathedral Avetaran.
Old city: interesting Sioni Cathedral (a repository of grapevine cross), Narikala Fortress (tourists are attracted preserved tower was built on this site in the 12th century church of St. Nicholas - its inner part is decorated with frescoes depicting the Georgian history and biblical scenes), the temple Anchiskhati (facade decorated antique medallion with a cross; here you can see the old icons and listen to Georgian church chants), sulfur baths (baths located within the existing pools with mineral water, whose temperature is + 37˚ C; in addition, there are willing massage services). Travelers are advised to walk along the avenue Baratashvili - where you can see the sculptural composition in the form of dancing in a circle of people ( "Berikaoba") and the remains of the city wall. It is worth noting that over the rooftops of the Old Town if you wish, you can "fly" using the cable car (whisk it all for a couple of minutes to the fortress Narikala) - you will be able to see a lot of interesting things to do and seen photos.
Where to stay tourists
Tbilisi offers a wide range of hotels, hostels and rented apartments. It should be taken into account that are more expensive central areas of the city - Mtatsminda, Avlabari, Vake.
You are not constrained in the media, and you do not have time toselection of a suitable area? Give preference to hotels in the Old Town. And in search of cheap hostels it is advisable to go to Chagureti area. If desired, you can settle in Saburtalo district, but there's nothing interesting from a historical point of view.
Photos of Tbilisi districts