New Year in Tbilisi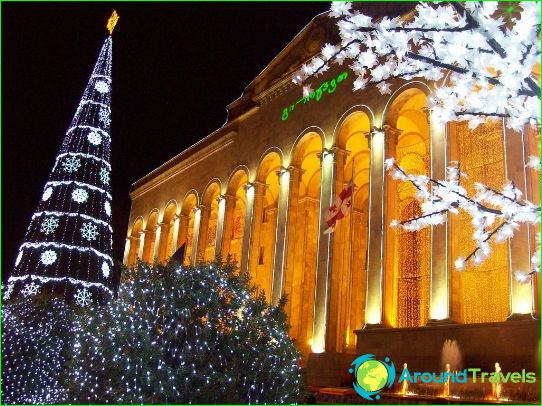 The Georgian capital - one of the most beautifulcities in the world. It stretches on the mountain hills and the oldest neighborhoods tiered hanging over running underneath the Kura and its rocky shores. Celebrate the New Year in Tbilisi - this is the best reason to go to Georgia, and feel her welcoming heat, taste the best wines, enjoy the aromas of its excellent cuisine and see the historical monuments, each of which is listed as a Cultural Heritage of Humanity.
Sightseeing tour
Introduction to the New Year should start with Tbilisithe historic center, located at the foot of the Holy Mountain. Each building here - a unique cultural monument, around which boils real life. Known all over the famous old movies Tbilisi ancient temples seem at first glance, gloomy and austere, but the living warmth of an ancient stone symbolizes the connection to time and perseverance of the people, who have borne many trials. The most famous of the temples - Metekhi Church of the V century and the Sioni Cathedral of the VI century.
At the Clock Tower, built by Rezo Gabriadzedirector of theater puppets, noise Georgian souvenir bazaar. Here you can buy a souvenir about the New Year in Tbilisi local paintings, handicrafts and become the proud owner of a cap-airfield.
Photos of New Year celebrations in Tbilisi