Tours in Tbilisi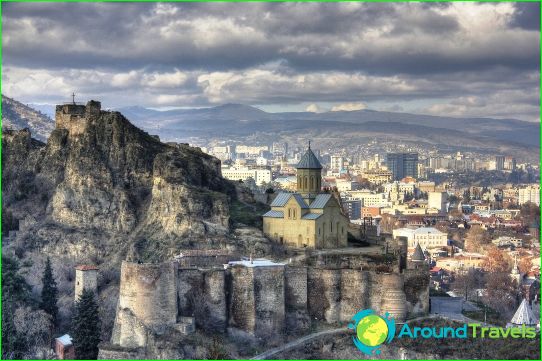 Anyone who has ever heard in my life livingperformance of Georgian men's choir already in love with Georgia once and for all. Its capital - a welcome destination for travelers who will not catch "ollinklyuzivom" and seals the existence of the golden beach, even the coolest resort. So Give tours in Tbilisi - the city where the heart is always aches from a strange mixture of tenderness and excitement, and the legs are always dancing a bit, either a glass of the best "Kindzmarauli", or in anticipation of a pleasant meeting with people whose souls are open and childishly straightforward .
History and geography
Familiar Russian traveler namedTbilisi, Tbilisi has been known since the IV century. According to ancient legend, it originated because of the discovery of therapeutic sulfur springs, which even today - a good reason to look into the famous baths of Tbilisi.
The town is located in the valley of the Kura River and on the slopes of the adjacent mountains. The most interesting for the participants of tours in Tbilisi is an old center and neighborhoods, which has houses built in the XIX century.
BRIEFS
The climate in the Georgian capital can be calledsubtropical. Winter is quite mild and dry. In December-February precipitation rare, and temperature readings hardly fall below -10. Summer in Tbilisi hot and long, and the thermometer at this time of year and can demonstrate 40. The most pleasant period for tours in Tbilisi - the autumn, when the heat has receded, and the rainfall is unlikely.
The main air gateway of the country - Tbilisi International Airport, receiving daily direct flights from Moscow and dozens of other cities.
To move around the city as part of tours in Tbilisiconvenient to the subway. Payment for his services is made by using refillable plastic cards, which you can pay the fare and urban taxis.
The city center is connected with the park on Mount Mtatsmindaold funicular opened after a major restoration in 2013. It was built in the early twentieth century and is one of the largest and most beautiful in the world.
Abanotubani - Quarter Ever sulfur baths,built in the period from the XVII to the XIX century. Standing on the natural sulfur springs, baths are a meeting place for locals and an indispensable attraction for tourists. The oldest bath Iraklievskaya, it is located on the right bank of the Kura.
The oldest building, which show the participants of the tour in Tbilisi - Anchiskhati Orthodox church, decorate the city in the VI century.
City Tbilisi
Photo