Where to go with children in Tbilisi?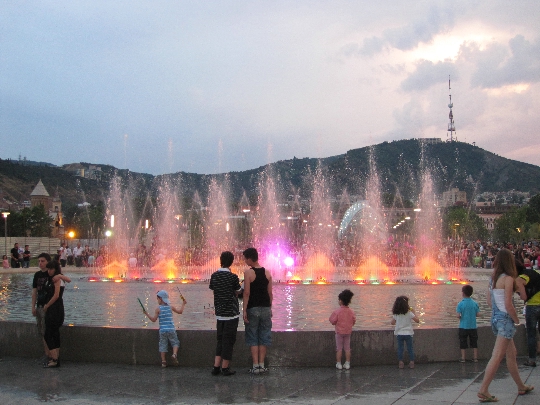 Tbilisi City is located in the mountains, on the banksKura River. Conventionally, it is divided into old and new. This city is famous for the beautiful scenery, ancient buildings and cultural monuments. Tell us where to go with children in Tbilisi.
Top attractions of the city
Tbilisi - this is a huge museum, so for inspectionall the interest it takes a long time. To get to know the city, we recommend a walk through its streets on foot. Very beautiful part is the old town, on whose streets you can walk for hours. Here are concentrated the old houses and temples. The old part of the city is not very big, so you can get around all the major sights in a few days. The most attractive are the street Chardin and Leselidze. In this part of Tbilisi is the ancient cathedral - a beautiful church Anchiskhati, built in the VI century.
A popular place for walking - ProspectRustaveli, which are famous theaters, churches, museums, restaurants and shops. In the evening, the whole avenue lit backlight. This is the main street of Tbilisi with its own special flavor. On it are items such as the Parliament, Rustaveli Theatre, Opera and Ballet Theater, the National Museum, the Academy of Sciences and other institutions. Attractions in the city is considered to be Armenian or district Avlabari. There is a famous temple of the Holy Trinity.
The oldest part of the city is the Abanotubani, wherelie the famous baths with sulphurous heat sources. From here you can quickly get to the beautiful botanical garden. With children, you can also go to the zoo, located at Kostava Street and Museum of Puppetry Shavteli street.
Where to walk with children
The famous place in Tbilisi - Mtatsminda mountain. It is the church of St. David's and the Pantheon. Mtatsminda Park is attractive for children. On its territory there are attractions and cafes. From the mountain offers a unique view of the city. The park is divided into zones: children's, family and extreme. The park entrance is free, but all the rides are paid.
Where to go with children in Tbilisi yet? If you are interested in the national souvenirs, go to the Dry Bridge - a cult object that is of interest to tourists. There is a vast antique market where you can purchase a rarity. A good place for a family vacation - Turtle Lake. Once its shores are home to turtles. To see the beautiful scenery and attractions, visit the Metekhi cliff. There is a monument to Vakhtang Gorgasal and Metekhi temple. The rock is the observation platform from which the old part of Tbilisi seen perfectly.
Photo