Georgia Coast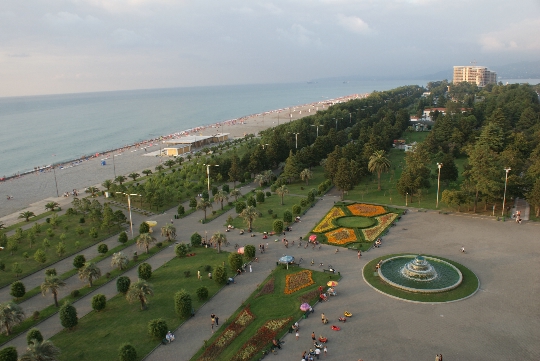 Relax on the coast of Georgia chosen as a rule, tourists interested in the Caucasian cuisine, warm sea, beautiful nature, loyal prices.
Georgian resorts on the coast (the benefits of rest)
The most popular holiday destination of numerousTravelers are Adjara resorts. Here they are waiting for velvet forests, interwoven with sea beaches, lakes and waterfalls, monuments, hotels, and resorts. In addition, it developed wine tourism: Anyone will be able to taste the white wine and pink Tsolikauri Chkhaveri.
Cities and resorts on the coast of Georgia
Batumi: on the beach Batumi Beach (as the sea near the shore is shallow, there is preferably a vacation with children) you can use the cabanas, cheap, umbrellas and sun beds, if necessary contact our watersports station, and in the evening - to hang out on the noisy discos ( Popular beach discos: "Prozac", "Tarabua"). With regard to places of interest, you should not deprive the attention of the Georgian alphabet Tower, Astronomical Clock, Seaside Park Singing Fountains, the monastery complex Shemokmedi. And if you want you can go boating on the lake Nurigel (on the shores of open boat stations) and visit Batumi water park (it is equipped with 6 slides, 5 pools, coffee bar, children's pool with small slides and fountains). Tip: The trip to Batumi is podgadat to conduct music festival - Batumi jazz festival.
Kobuleti: if you need to cure diseases of the digestive system, impaired metabolism, diseases of the joints, liver, kidneys and blood vessels, welcome to the resort of Kobuleti, famous for its mineral springs. Travelers should inspect the remains of the fortress of Peter (6th century), visit a local 10-kilometer beach (on the promenade stretching along the beach, you encounter hotels and food places, and on the coast you can rent the necessary equipment for games and sports) and the amusement park " Tsitsinatela "(look at the attractions" Kamikaze, "" Ferris Wheel "," horror Castle ").
By the river: fame brought this resort beaches covered with dark gray and black (magnetic) sand. This resort is advisable to go balneoclimatic cores and suffering from diseases of the joints, as well as families with children (the length of the shallow waters of the beach - 250-300 m; the beaches are equipped with concert and playgrounds with attractions). And if you do not want to crowd on the local beaches at the height of the season, pay attention to the fenced area belonging to sanatoriums and hotels (where you can relax, paying a certain amount of input).
A trip to the coast of Georgia will leave an indelible mark in your heart, you will win the local beaches, ancient culture and attractions.
Photo