Kitchen Georgia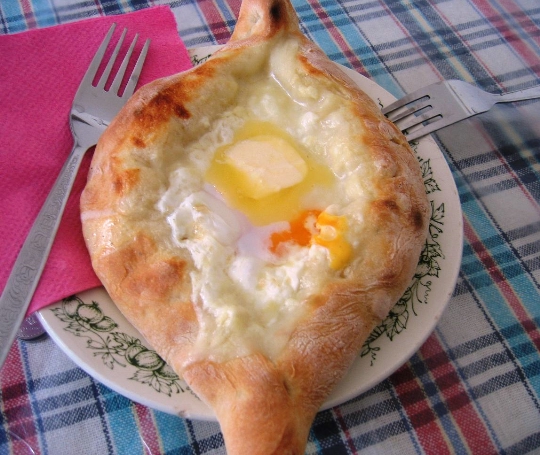 Kitchen Georgia - one of the main attractions of the country: on the gastronomic traditions of Western Georgia has influenced Turkish cooking, and eastern Georgia - Iran.
The national cuisine of Georgia
The basis of the Georgian cuisine and up vegetabledairy products, vegetables, cereals, herbs, spices and original sauces (tkemali, adjika, nutty sauce badge). Of the meat dishes widespread "khinkali", smoked or grilled sausages "kupaty" roast beef "basturma".
Great importance is attached to the cheese in the country - ithere is fried, added to soups, pies, cakes. It should be noted that in the west of the country most often regale tortillas made from corn flour, poultry meal (turkey, chicken) and non-acute fresh cheeses, and in the east - wheat bread, sharp and salty cheese, dishes of beef and lamb. With regard to the areas near the river, there are widespread fish dishes.
Popular Georgian cuisine:
"Grub" (Georgian soup on the basis of acid from dried plums with rice, beef, garlic and walnuts);
"Chakhokhbili" (stew of poultry with garlic, tomato sauce and spices);
"Ajapsandali" (stew based on eggplant, onions, tomatoes, green peppers and other vegetables);
"Lobio" (a dish made of red or green beans with hot spices and herbs);
"Mtsvadi" (Georgian shish kebab made from lamb, pre-marinated meat in pomegranate juice or wine vinegar);
"Khinkali" (ravioli-like dish with minced meat stuffed with herbs and spices).
Where to try the national cuisine?
It is worth noting that the Georgian restaurantsguests are greeted warmly and with special attention, will inquire your preferences and limitations in food (there are close to the taste preferences of different people).
In Tbilisi, you can look at "Khinklis Samkaro" (ininstitution offers pkhali, khachapuri, shashlik, dozens of khinkali), and in Batumi - in "Kiramila" (in this restaurant, recreate the effect of an inverted building, you can enjoy a selection of Georgian and European cuisine), or "Heart of Batumi" (in this art café guests are served homemade wine and Georgian dishes, recreated in the European style, that are served less spicy and fatty food than in the original). Tip: Order kebab or khinkali, do not try to eat them cutlery, as these dishes are eaten by hand.
Cooking Courses in Georgia
As part of the gastronomic tour you Tbilisistroll through the local market, and learn to understand the Georgian spices and seasonings. After the purchase of the products you offer to cook his own khinkali and khachapuri, and then taste it together with Georgian wine (cooking course duration - 5-6 hours).
Who can come to Georgia at the young wine Festival (Tbilisi, May) or the Festival of cheese (Tbilisi, October).
Photo